How to mail merge double-sided tent cards in Word
I ran into this problem at work recently and didn't find many good explanations for how to solve it — so here you go!
Imagine you're organizing a banquet dinner, or some kind of formal meeting, and you need to mail merge tent cards with your attendee's names on them. Ideally you want to be able to print their name on both sides of the card so that it's easily visible. This is how you do it:
The main trick is to ignore the default template that Word or the Avery website gives you, and to make your own template, sideways 1.
Instructions: Two-to-a-Page Tent Cards
I'll use the example of two-to-a-page cards like Avery 5305 or most of the St. James Overtures cards, but there are some additional tips at the end for cards where you have one, four, or six cards on a page.
Set Up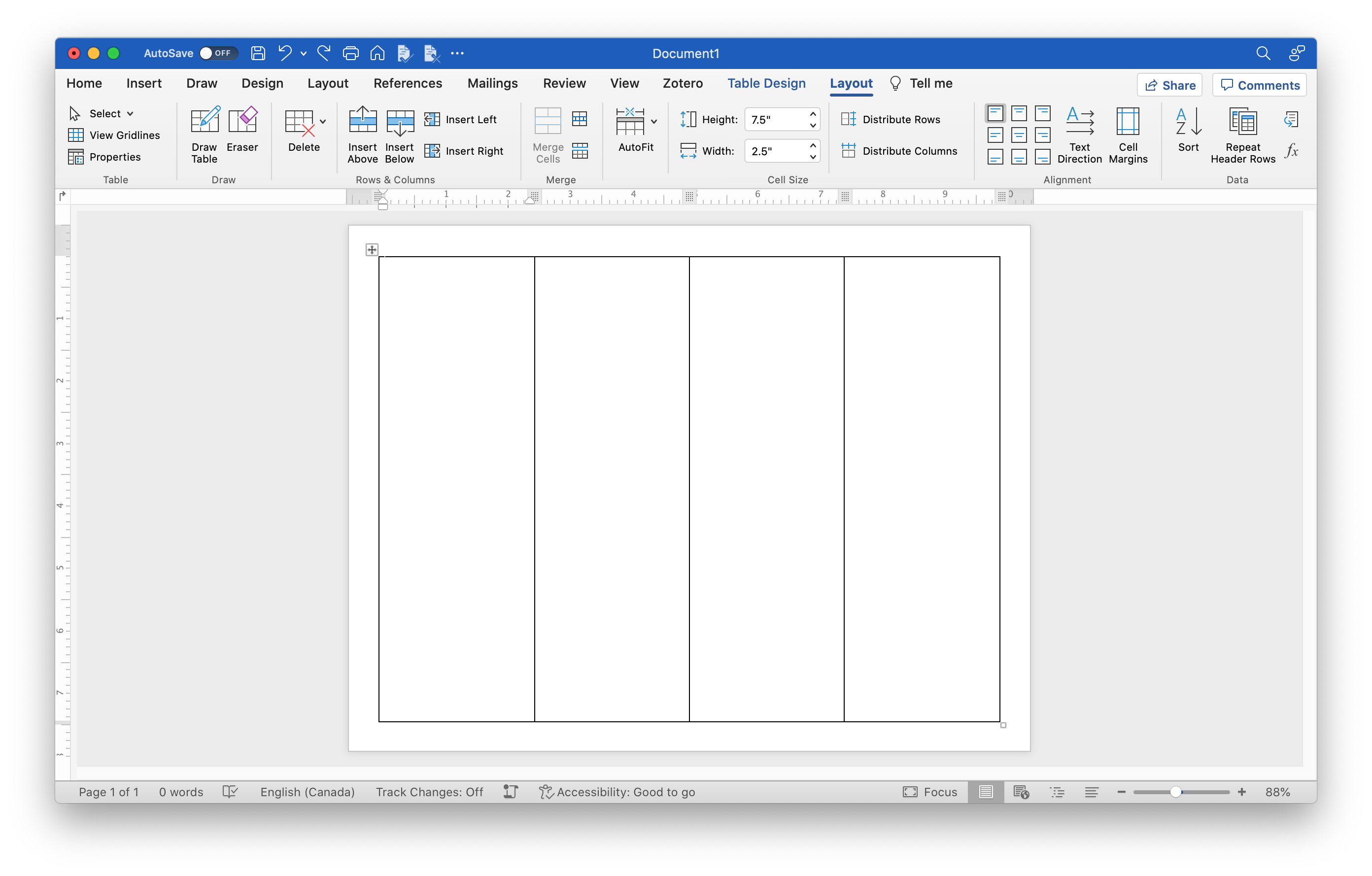 (If you're using a different card than Avery 5305, you might want to adjust the margin measurements.)
Open a new word document and set the layout to Landscape.

Set the page margins to 0.5" on the top and sides, and 0" on the bottom. If Word complains about printable area, just select "ignore".

Insert a four-column table and set the cell dimensions to 2.5" wide x 7.5" tall. (You can leave the table borders as-is, we'll remove them later.)

Using the "Mailings" tab, select "Start Mail Merge", and select "Labels". Then select "Cancel". It may seem like you've done nothing, but this strange ritual will put Word into the right merge mode and enable the "Update Labels" button.

Connect to your external data using "Select Recipients"
Make sure you select "Start Mail Merge" > "Labels" and not just the "Labels" button right next to Envelopes. Even though they both bring you to the same dialog screen, only "Start Mail Merge" > "Labels" puts you into labels mode.
Design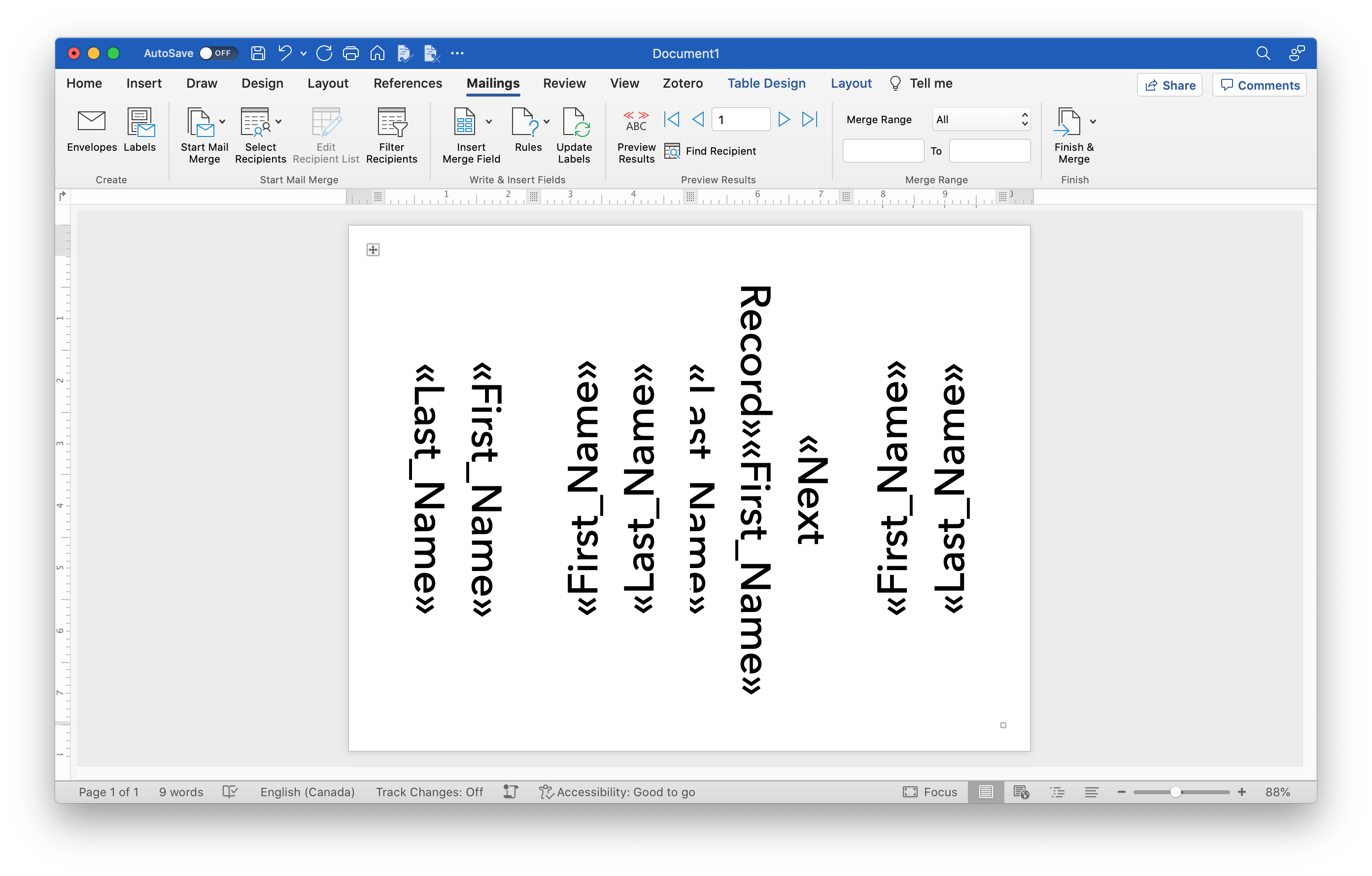 Steps 1–4 can be done in whatever order you find easiest:
Using the "Layout" tab, set the alignment for all your table cells to be centred vertically and horizontally.

Insert your merge fields in the first column.

Using the "Layout" tab, change the text direction so that the text is rotated 90 degrees clockwise in columns one and three, and counter-clockwise in columns two and four. (You might need to type a little bit of text in each column to check.)

Style your text so that it looks the way you want it (I often will use the "Preview" button on the "Mailings" tab to skip through to the longest name and set the font size based on that.)

Using the "Mailings" tab, select "Update Labels".

At this point, it will show a new name in each column - to fix this, delete the <<Next Record>> merge fields in columns two and four. (You will have to turn off "Preview" if you have that on.)

Remove the borders on your table and check that everything looks the way you want it. Make sure to save your file if you haven't done so already.
Printing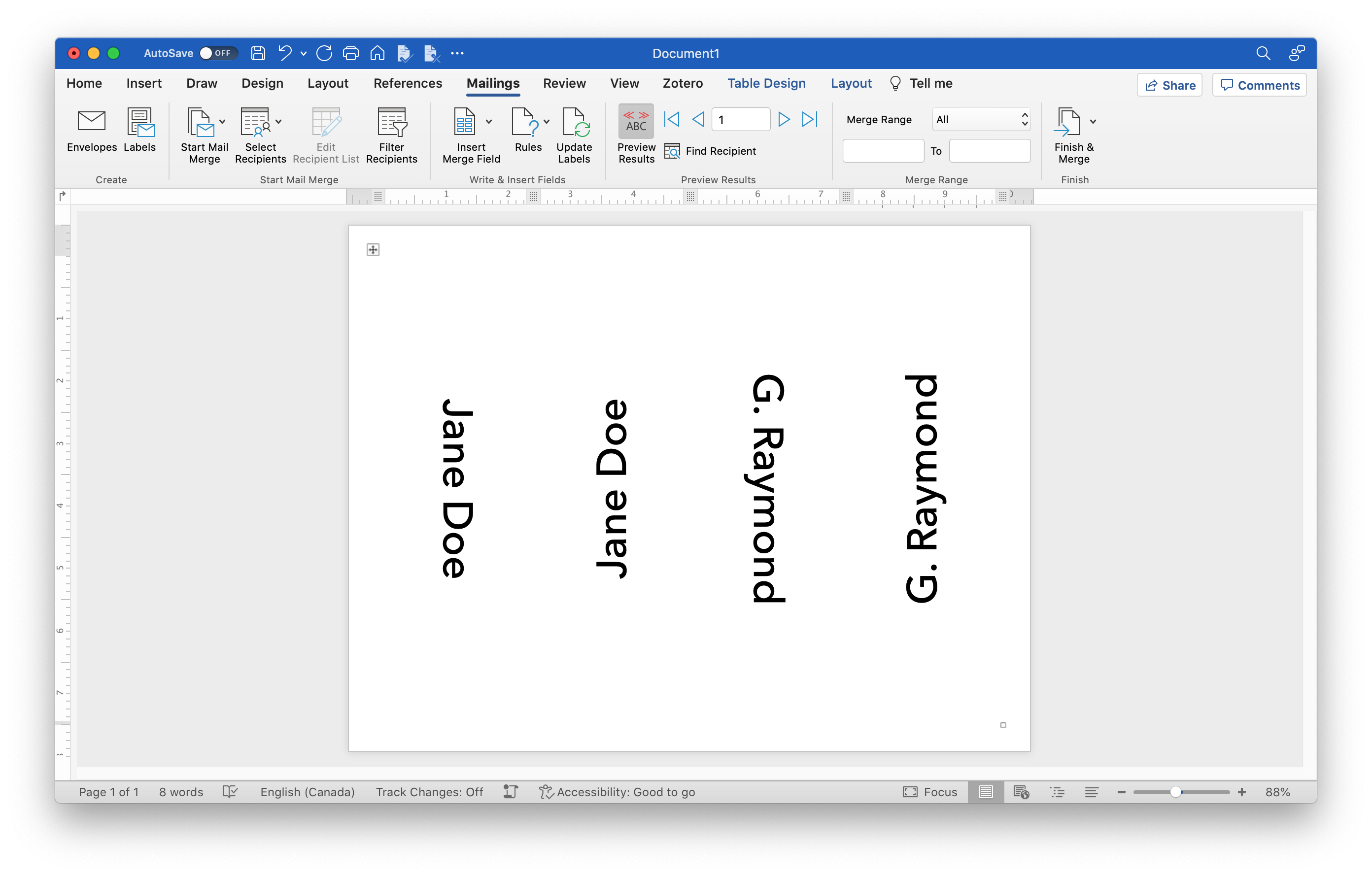 Using the "Mailings" tab, select "Finish and Merge" and then "Edit Individual Documents".

Save the newly-generated file and check to make sure that everything merged correctly.

At this point, it's usually a good idea to try printing just one page to make sure you know how to correctly orient your cards in the feed tray. I usually run it through with a piece of paper that has "Top" written on the top of one side so you can figure out the correct rotation.

Once you're confident that everything is set up correctly, print out your cards and have fun separating them and folding them up!
Other Sizes
If you have one-to-a-page cards like Avery 5309, the correct set up would be a portrait page like this, with margins of 0.5" at the top, 0.75" on the sides, and 0" on the bottom; as well as table cells that are 3.5" wide and 10" tall: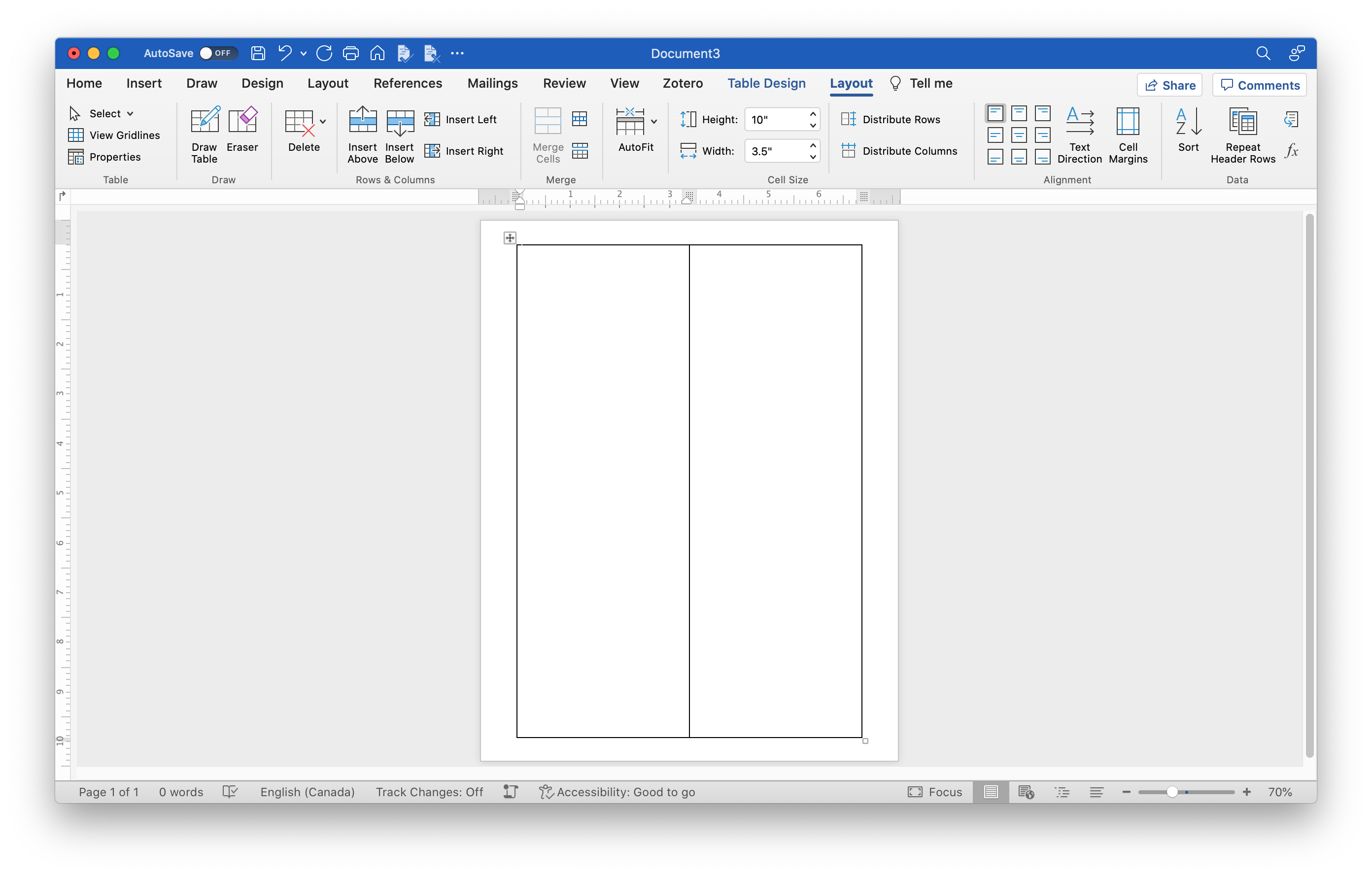 If you have four-to-a-page cards like Avery 5302, it gets a bit trickier. Start by setting up a landscape page with margins of 0.5" at the top, 1.25" on the sides, and 0" at the bottom. You'll then want to a 5x3 table where the gutters, i.e. the centre column and centre row, are 0.5" and the cells for each side of the card are 2" wide by 3.5" tall: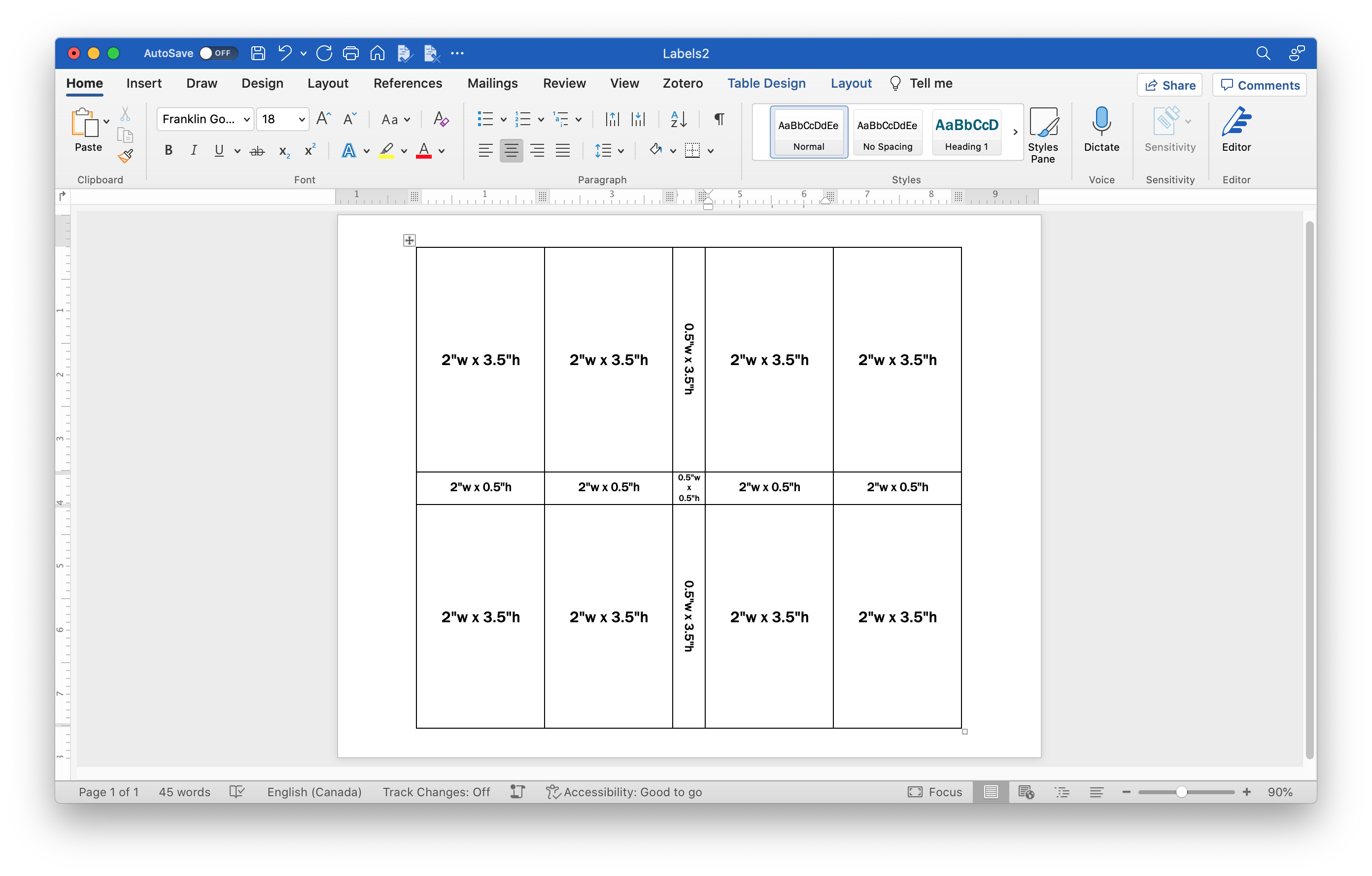 The only other step is to make sure that you delete the merge tags from the gutter cells, and delete the appropriate <<Next Record>> tags.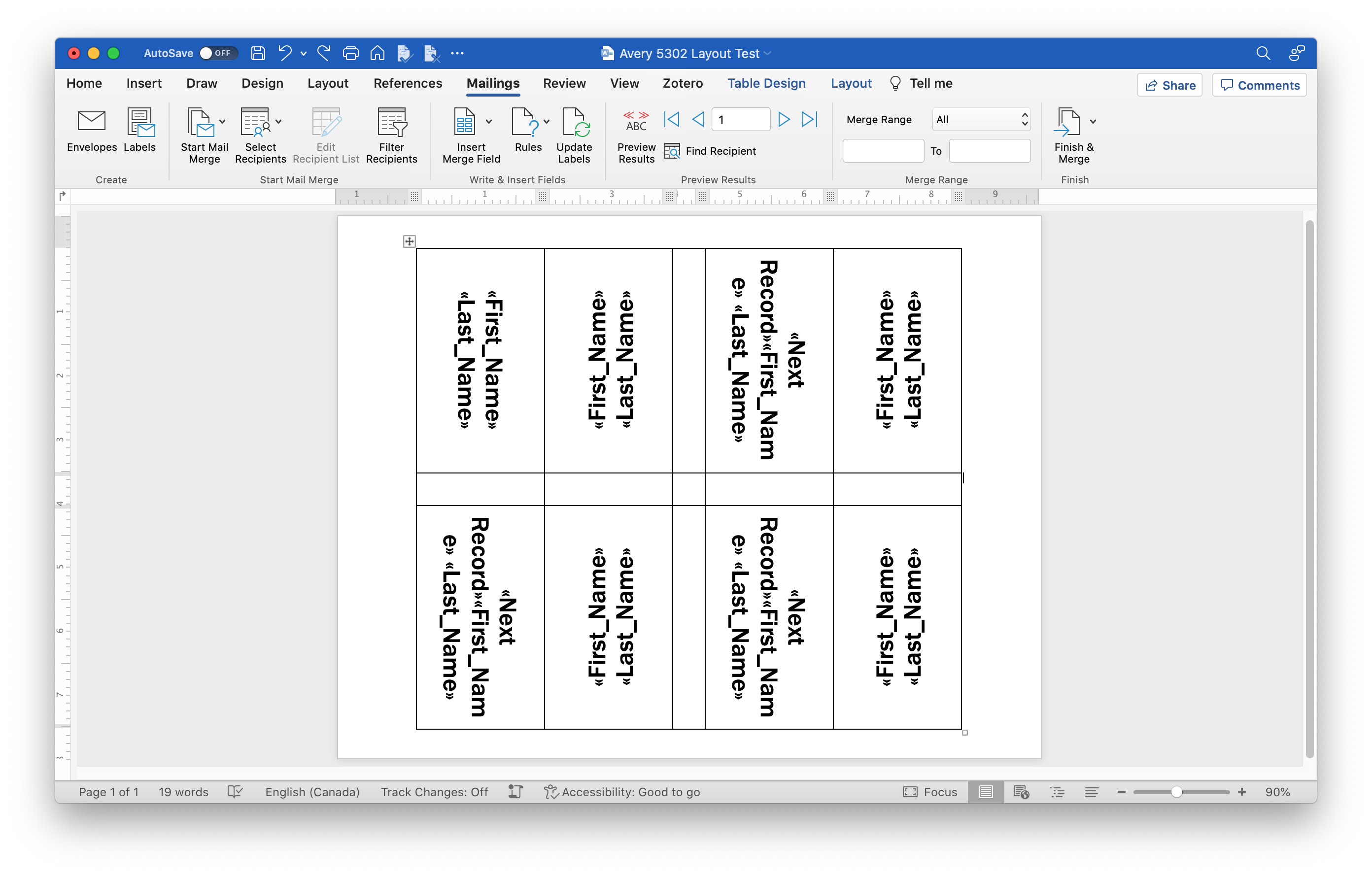 You can use a similar approach for cards that are six-to-a-page.
Troubleshooting
My merged document doesn't print
I'm not sure how common this issue is, but I've run into it occasionally. Try exporting the Word file to PDF and printing from Acrobat.
I updated my spreadsheet but the data doesn't show up when I preview the merge
Close and re-open Word if you have updated your spreadsheet but the new data is not showing yet in your preview. This will force Word to re-pull the data from the spreadsheet file.
I put in the right dimensions for the table, but after styling my text, the dimensions have changed
Setting Layout > Autofit to "Fixed Column Width" might help, but in most cases, you'll just have to re-set the table layout to the correct dimensions.
The main problem is that while Word can have text oriented 90 degrees sideways in either direction, it can't orient text upside down. You can make upside down text using a text box, but that doesn't seem to play well with the mail merge feature. ↩