Toronto Beltline Trail via BikeShare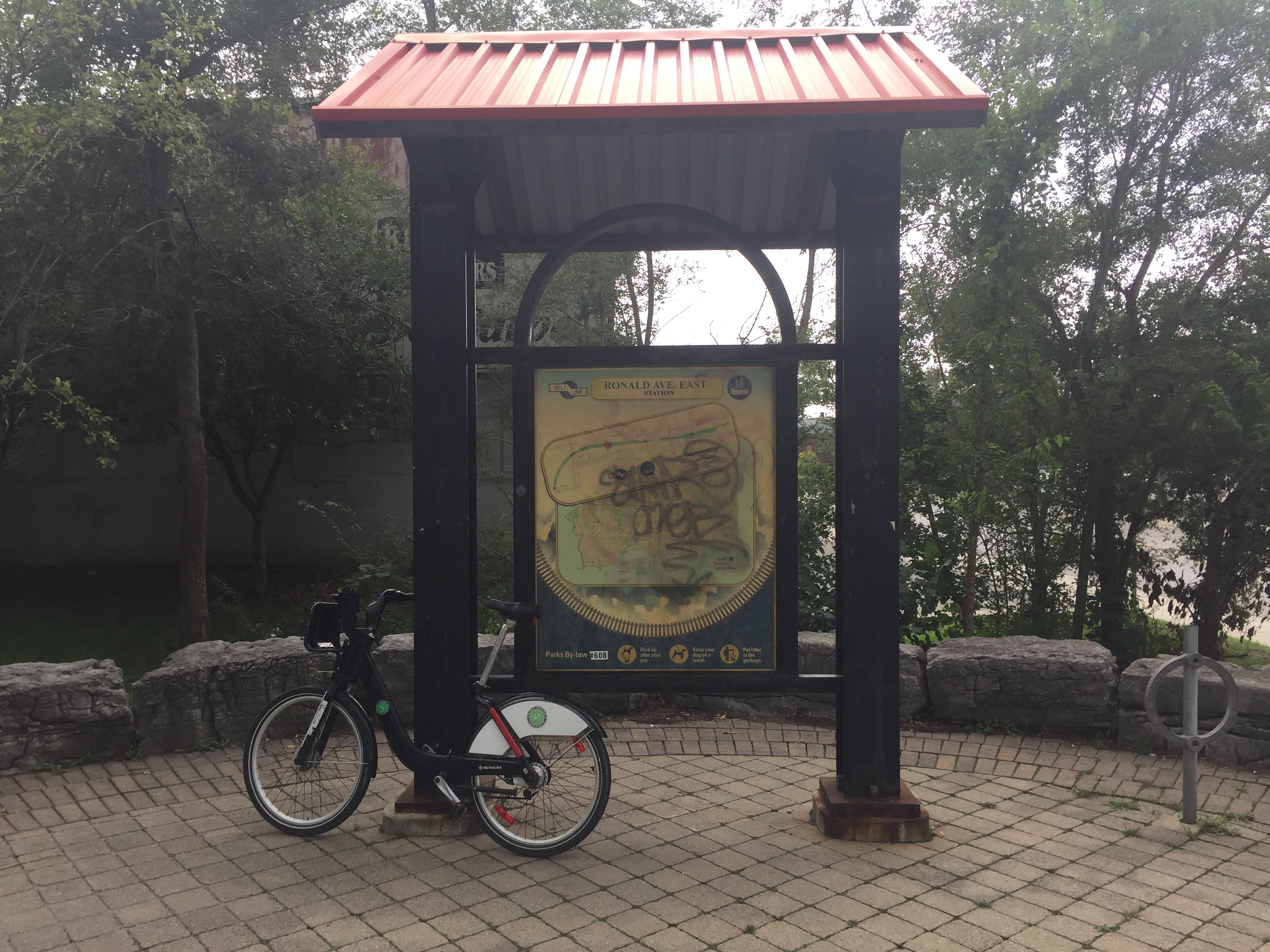 Key Stats:
Time: 1h 45m - 2h, depending on how often you take breaks.
Distance: about 26km
Hills: Moderate, unless you take Milkman's Lane
On August 15, Bike Share Toronto announced that they were expanding their network again, with 75 new stations across Toronto. One of the interesting new additions was a station on the Kay Gardiner Beltline Trail, which is a great trail for an afternoon bike ride. Naturally, I thought I would try it.
A couple important caveats:
Keep an eye on the time - especially for the first part of the journey. I use a timer set to 25 minutes to make sure I don't go over 30 minutes for each part of the trip.

Don't do this route with a BikeShare bike if it's raining or has recently rained. They have pretty smooth tires and you don't want to get the bike dirty. Remember–someone else will be using it later.

When you grab a bike, make sure it has a working bell, well-functioning brakes, and a seat that you find comfortable.
Part I - Castle Frank to Oriole Park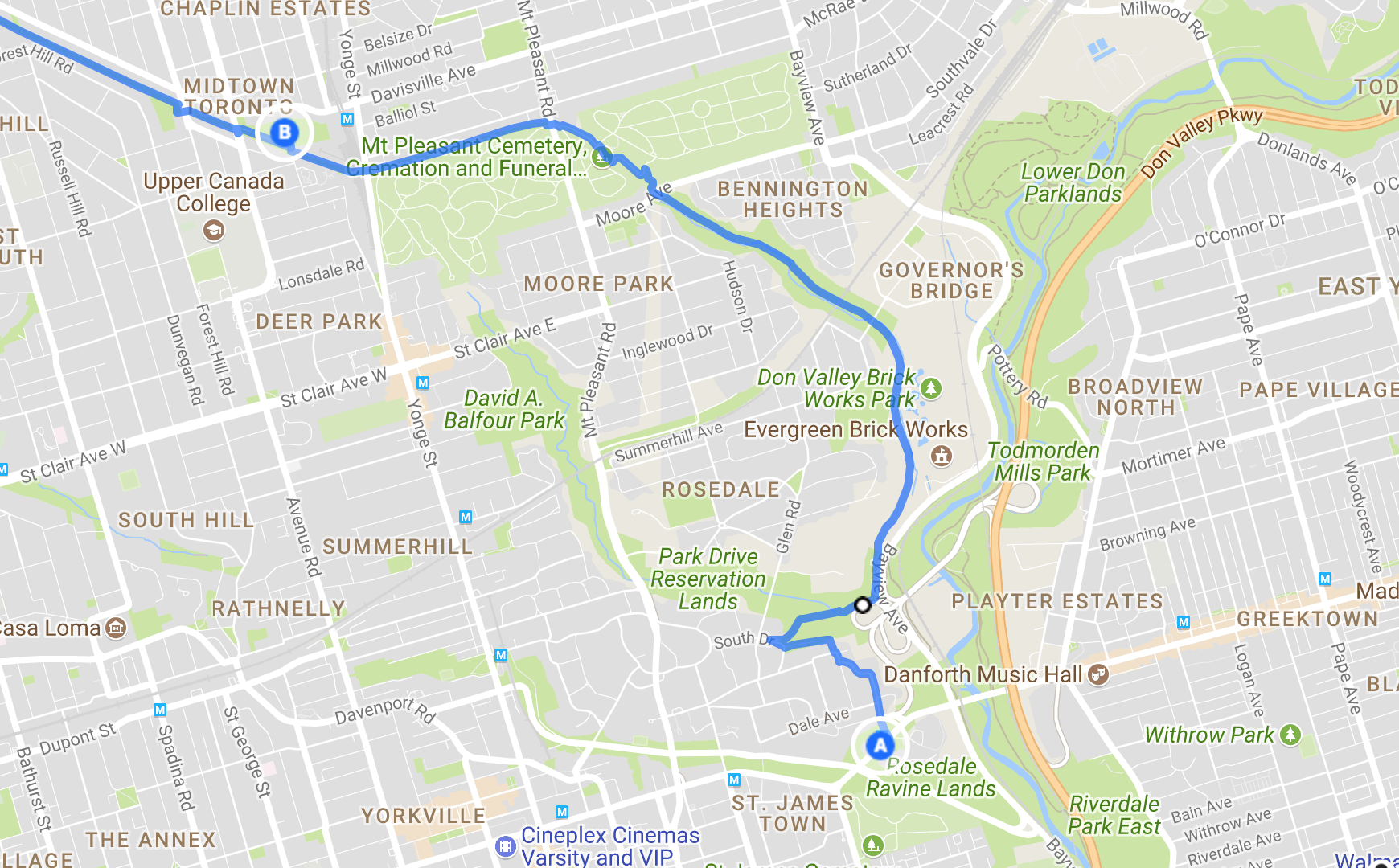 This is the longest part of the trip, and also the most uphill. If you want to avoid the treacherous ride down Milkman's Lane, there's a switchback down from Chorley Park that will take you to where the trail passes the Don Valley Brickworks. To get to Chorley Park, go across the Glen Road bridge instead of taking the Milkman's Lane trail. This part takes 22 minutes, or 25 if you enter the trail from Chorley Park.
Tips:
Once the trail stops being side-by-side with Bayview Ave, there's a big fork. Take the larger trail on the left (the other one goes to the Brickworks parking lot)

If you don't want to go through the cemetery, or can't because of the gate hours, you can go west on Moore Ave and North on Mount Pleasant Rd. Once you hit Merton St, you can go back south slightly and catch the trail again.

The rack in Oriole Park is slightly off the trail, but you should be able to see it when you cross the road.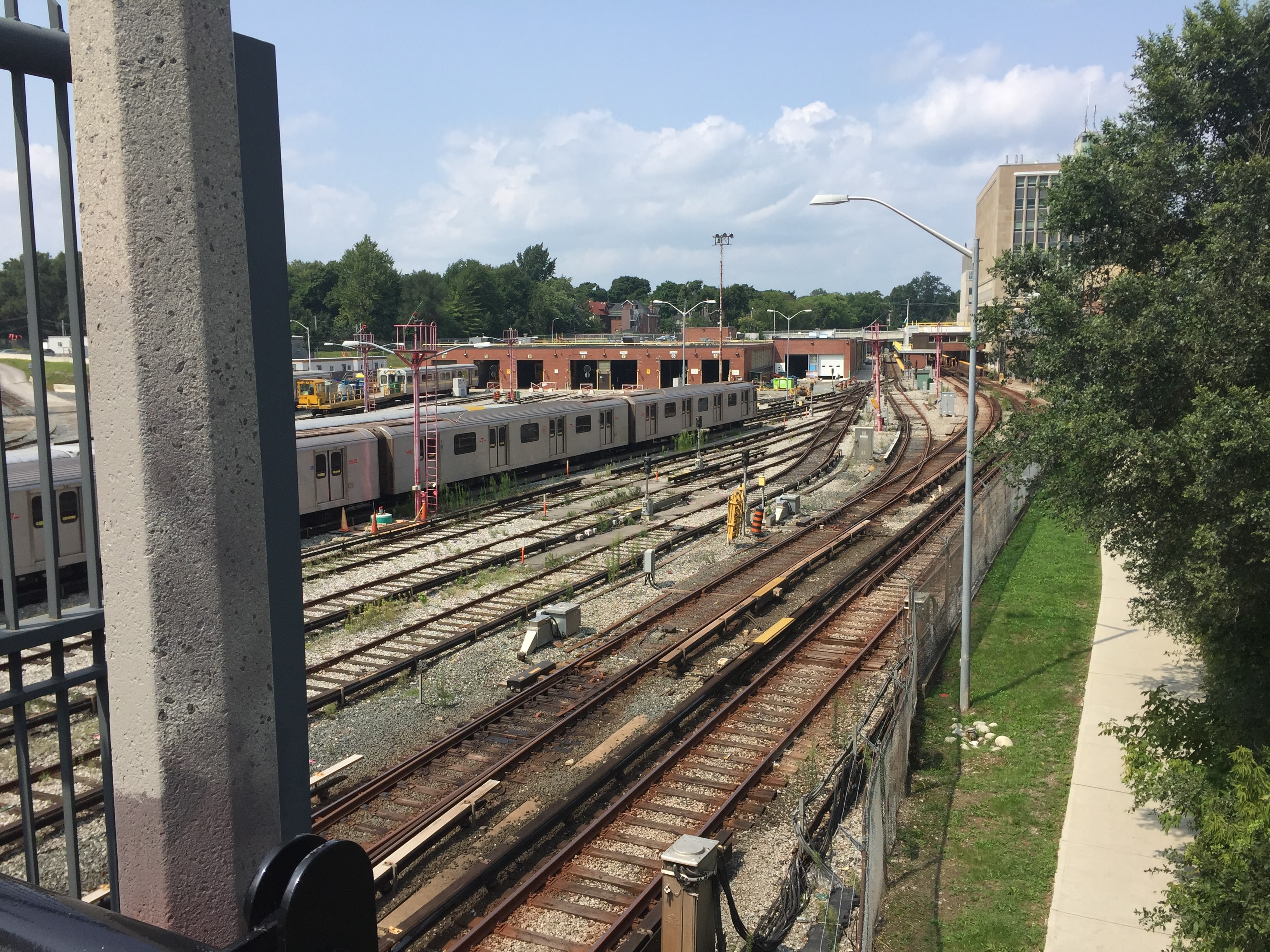 Part II - Oriole Park to Memorial Park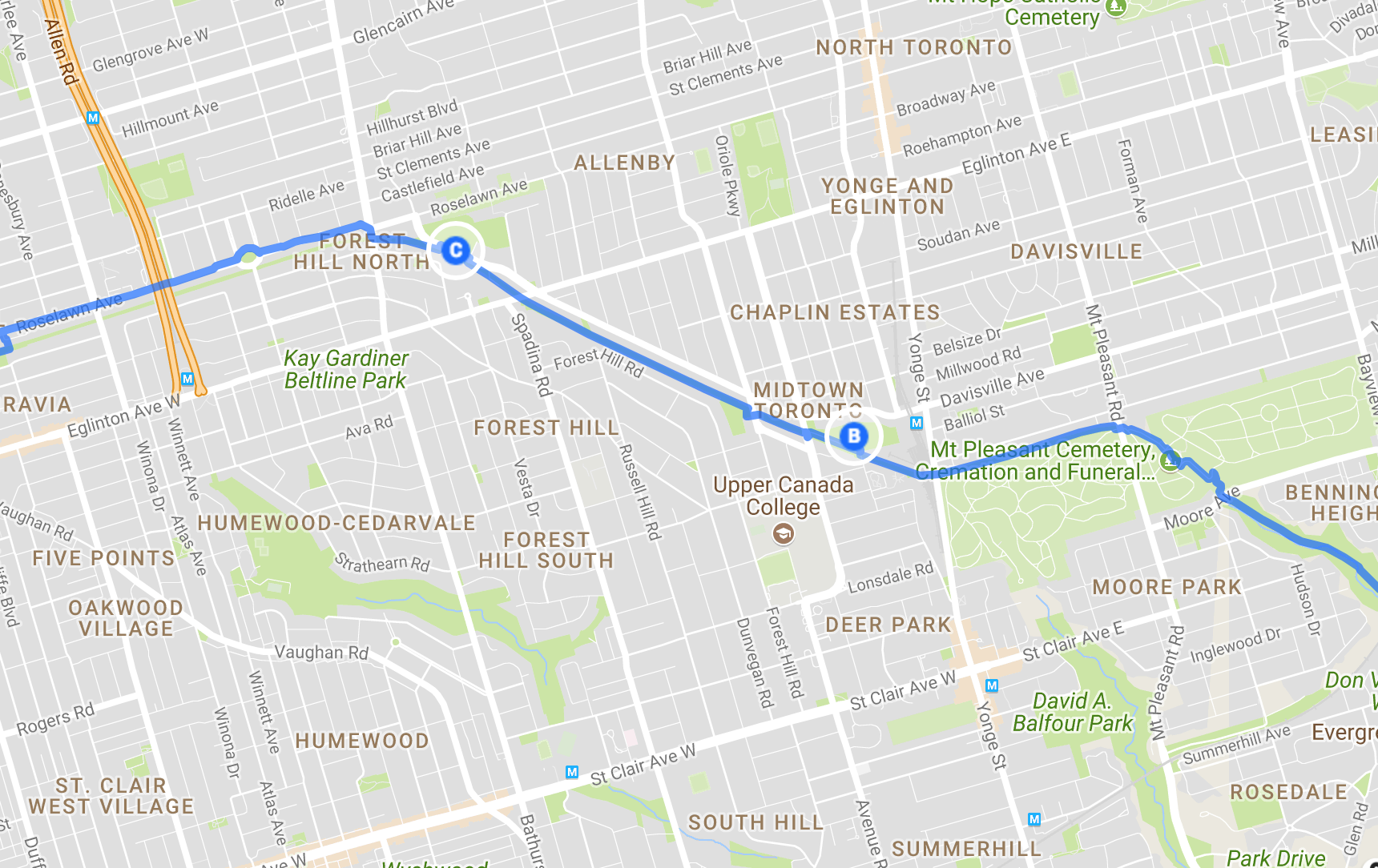 This is the shortest part of the trip. It's slightly uphill, but pretty easy. It should take just under 10 minutes. The rack at Memorial Park is right on the trail, so it's hard to miss.
There are park washrooms on the outside of the Arena, so if you need a bathroom break, this is a good spot.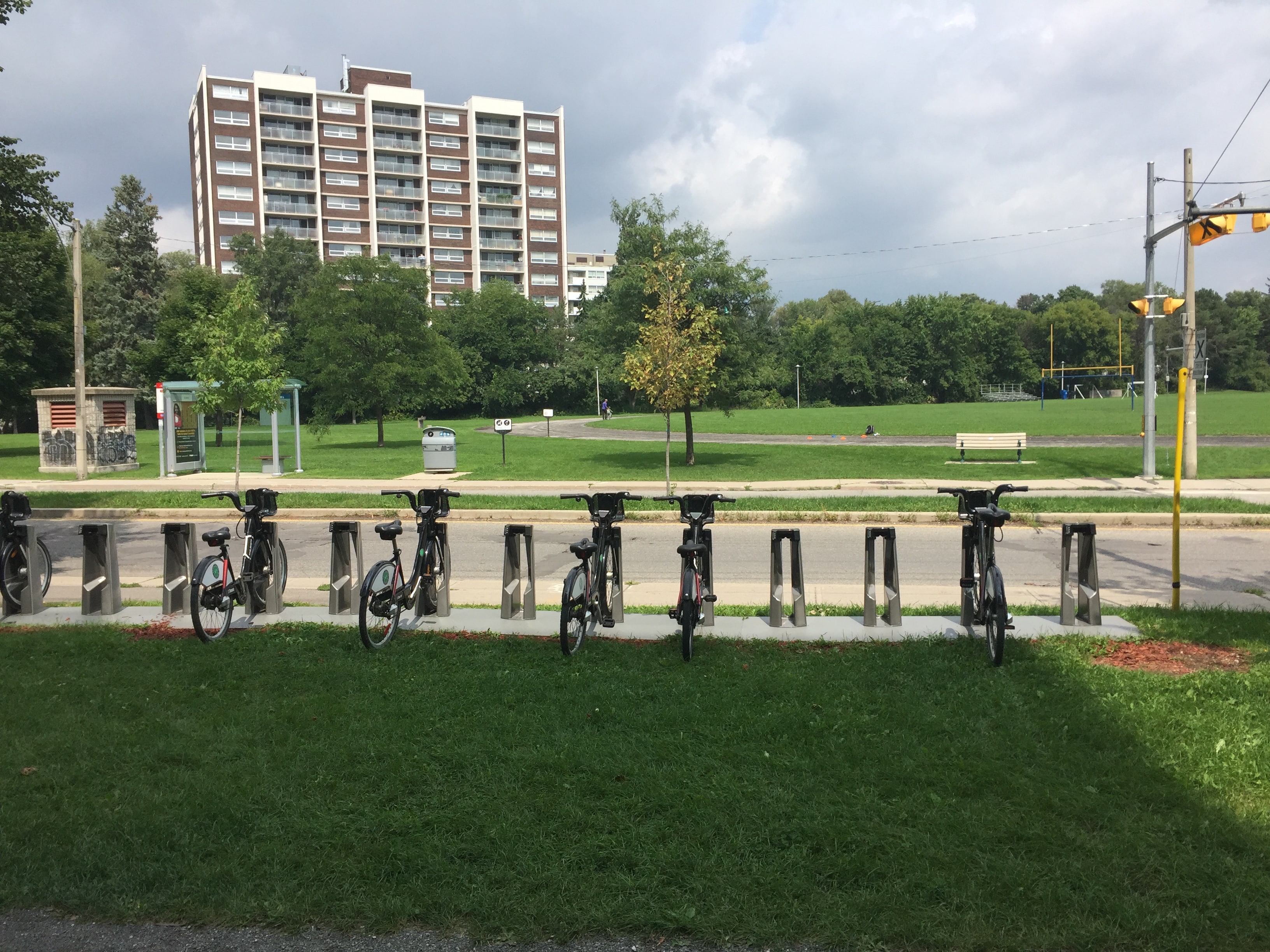 Part III - Memorial Park to the York Beltline Trail and Back Again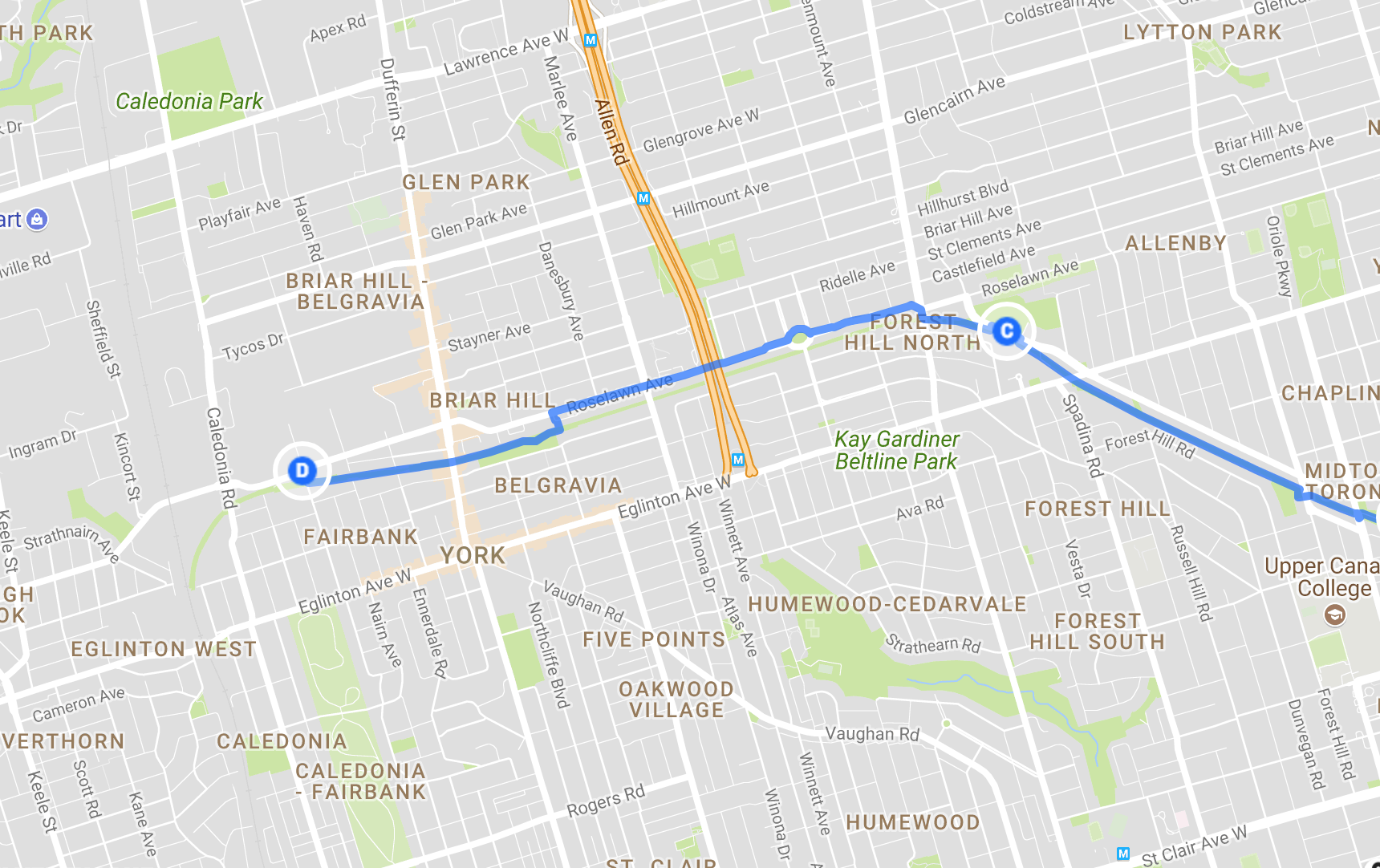 There's no other BikeShare racks after this, so make sure you set a timer to tell you when to turn around! I set mine for a safe 13 minutes, but you could do 14.5 minutes if you like to live life on the edge.
There's a small section where this trail hops up to Elm Ridge Dr/Roselawn Ave to get over the Allen Expressway, but it's short and has good signs to get you back to the trail.
I managed to get to Ronald Ave E before turning around. I think if you really cut it close and went fast you could get to the end of the trail… but that's an experiment for another day.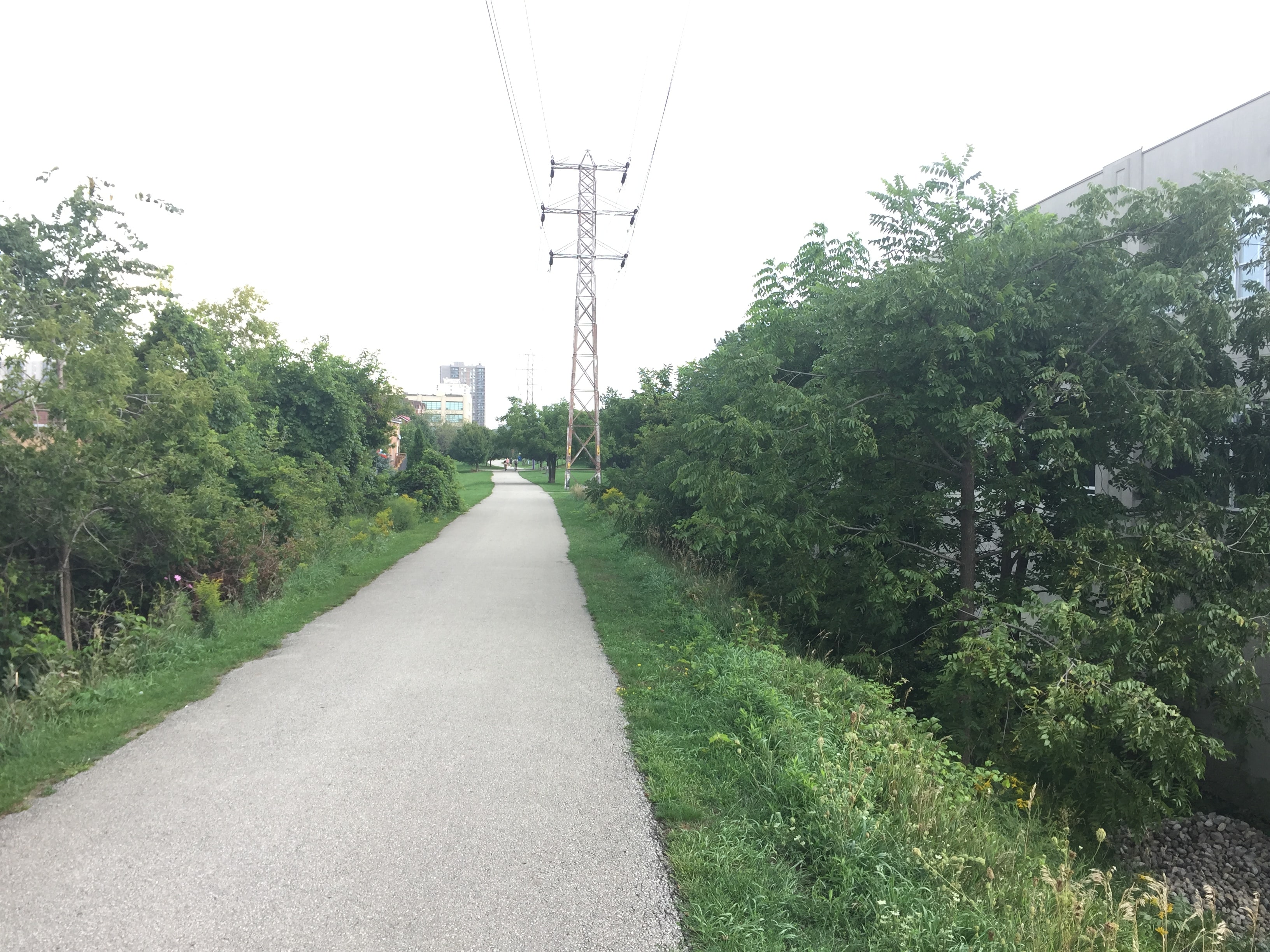 Part IV - Memorial Park to Oriole Park
This is the same as part II, but going back. Enjoy going slightly downhill!
If you want to take a different route, you can head leave the trail south at Russell Hill Rd and head downtown. There are racks all over north downtown within a 30 minute ride (Spadina Station is just under 20 minutes, for example.)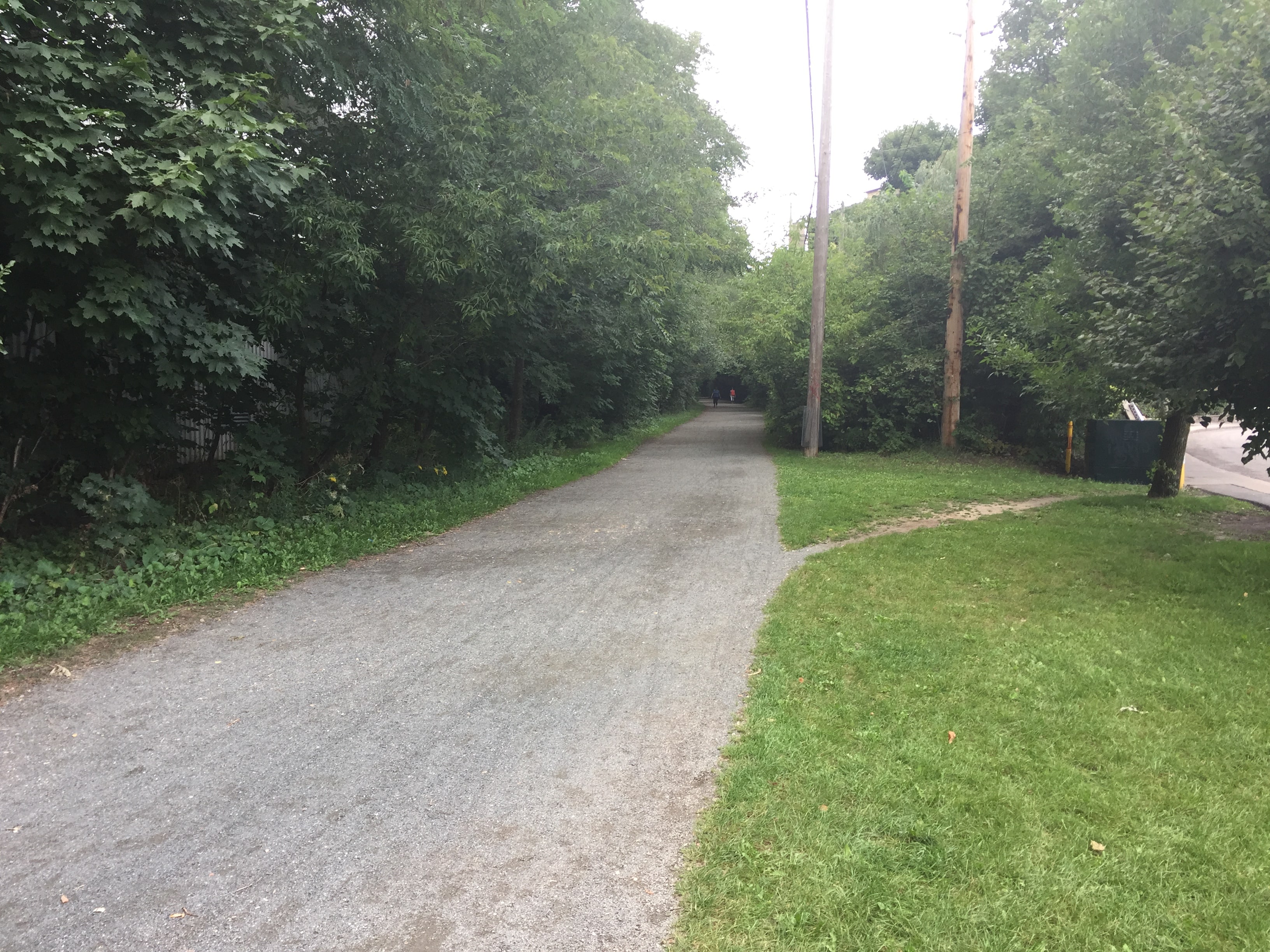 Part V - Oriole Park to Castle Frank Station
Avoid going up Milkman's Lane unless you want to be completely exhausted, especially since the bikes only have one low gear. It's probably easier to walk the bike up the Chorley Park switchback instead. This is also a good option if you're tired and want to take a break, since there's a rack on the west side of the park on Douglas drive.
Don't make the same mistake that I did and go into the Cemetery before Mount Pleasant and then take the trail from the west side. That trail has stairs, and the BikeShare bikes are heavy.
Enjoy the ride!