Winter Biking in Scarborough
For nearly a year, I've been taking the subway to Kennedy station, and then biking to either Scarborough General or Centenary hospital to get to work. And when November's cold winds came… I put on studded tyres and kept going. Overall, it's been a surprisingly good experience.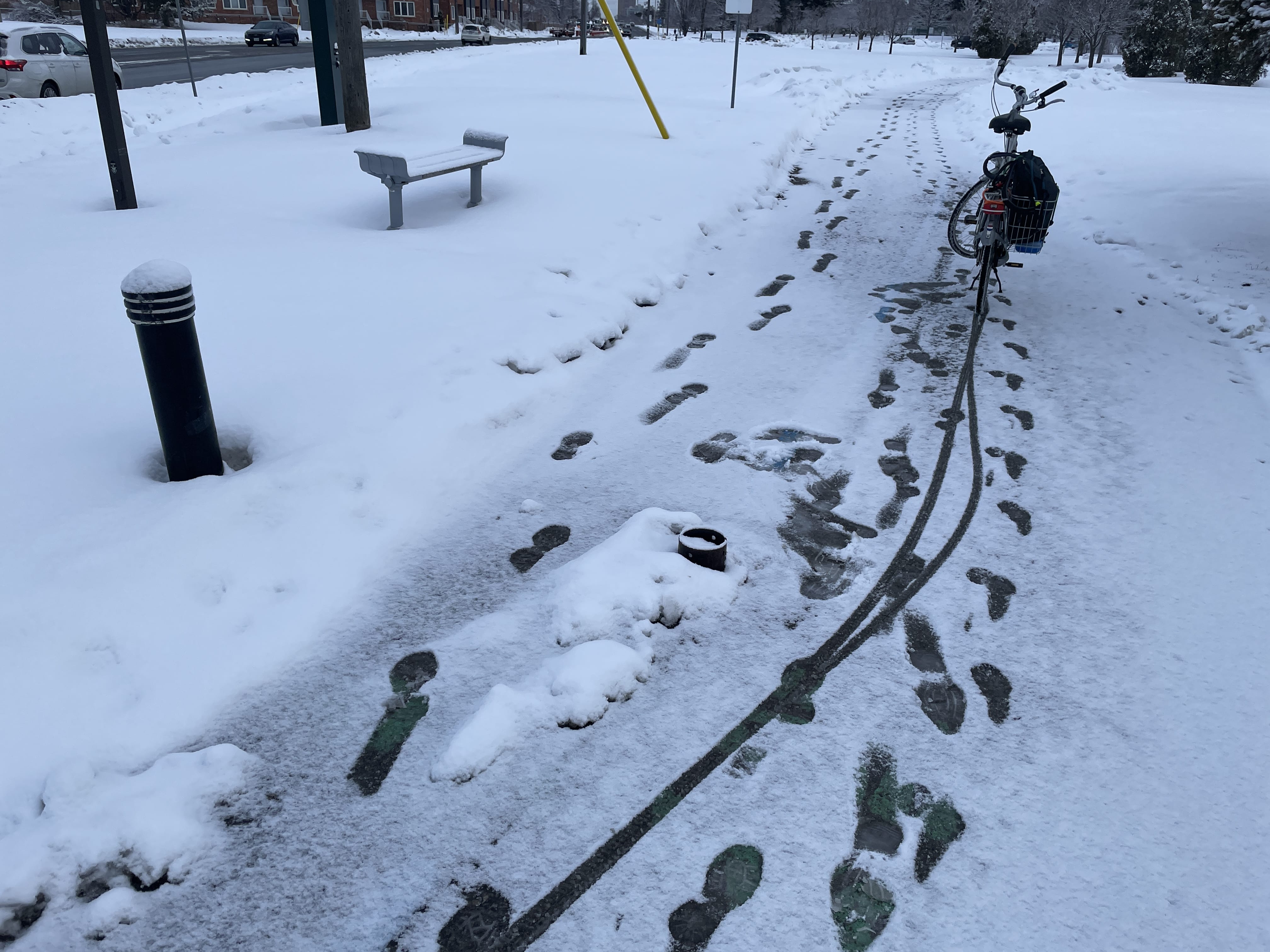 For the previous five years, I had worked downtown and biked to work using bike share, and I would continue biking more or less all year round. However, biking in Scarborough, I had two specific fears:
First, that there would be no (or very unreliable) snow removal on the bike trails I rely on to get to work, forcing me to take pretty dangerous high-traffic suburban roads if I wanted to keep biking.
Second, that without the flexibility of bike share, I would end up in a sticky situation if the evening weather was much worse than in the morning, or having to abandon my bike at the hospital and take transit home.
Facing the Fears
Part of the reason I was so worried about inadequate snow clearing is that the information available was either confusing or indicated that there was no snow clearing on my route. For example, here is what the City's info page on winter bike route snow clearing looked like on October 24, 2022. Cross referencing with another webpage that has the Toronto Cycling Map it doesn't indicate anything about the "Major Multi-Use Trail" parts of my route and (via link to yet another page) indicates that only the lowest level of clearing would apply to the neighbourhood roads that include "On-Street Shared Cycling Connections" (i.e. Sharrows).
But wait! One of the trails goes through a park, so maybe it's part of the "list of Winter Maintained Paths/Roads throughout the city's parks, which — you guessed it — can be found on yet another webpage. Except all it tells you is the park name and that the park features [a] "Winter Maintained Pathway". Does that include my trail, or is the trail outside of the park boundary? Who knows!
If only there were sign… maybe like this?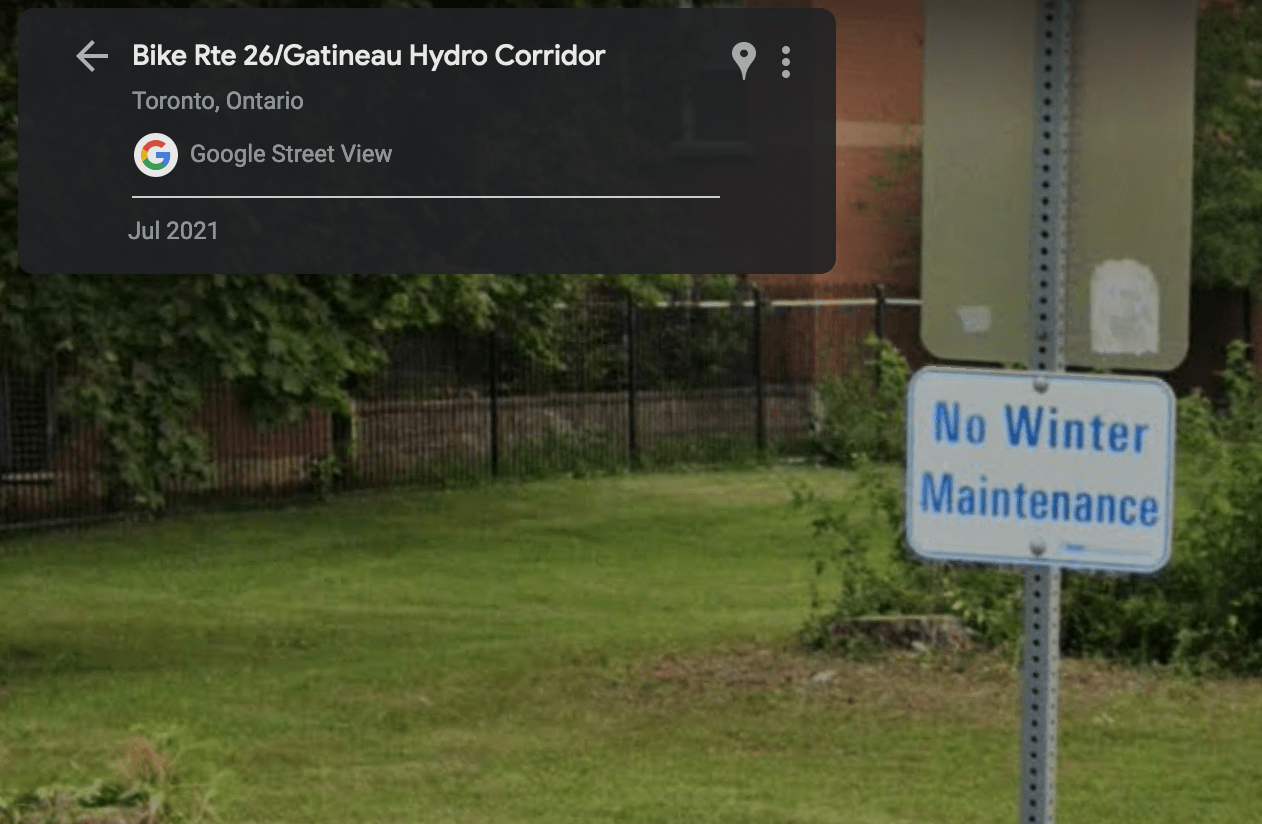 Or this: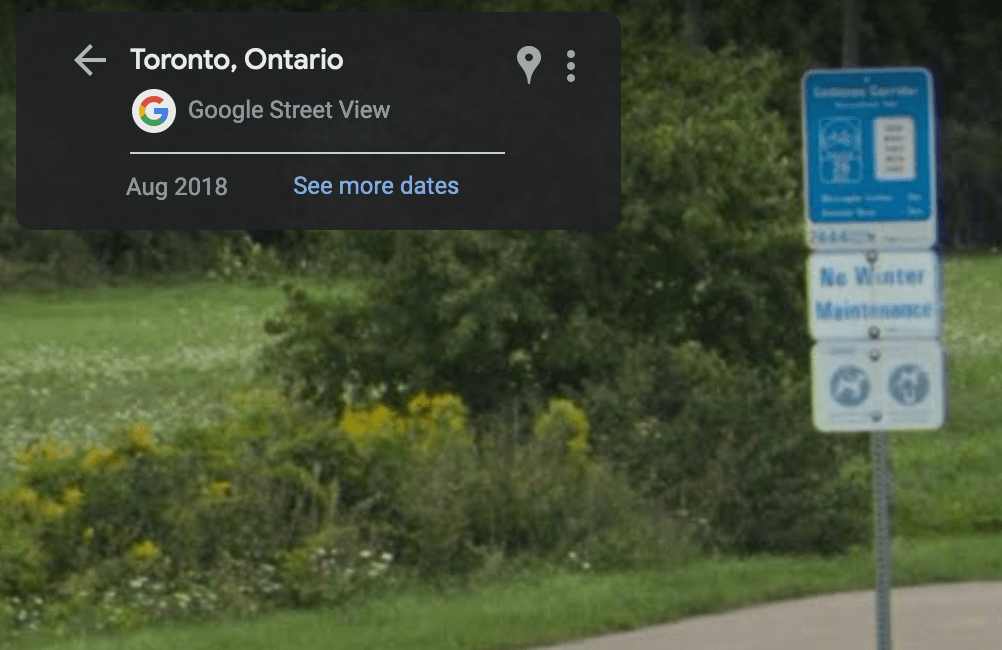 Or perhaps some media coverage about how the main trails on the Meadoway aren't cleared in winter?
Overall, it didn't paint a promising picture — and yet, I held out hope that maybe things had changed for winter 2022/23. After the first snow fall of the year, I woke up half an hour earlier so that I could walk my bike route and see for myself. Despite the confusing webpages, the off-putting "No Winter Maintenance" signs, and the negative media coverage, it was more or less all cleared and salted. Success!
Looking at the current City web page on winter bike route snow clearing, things are more encouraging, but still slightly confusing. "The City clears 776 km of bikeways and major trails across the city of ice and snow each winter.". Great… how much of the bike system is that? 80%? 100%? Does it include the trail I take to get to work? At least it indicates that "Winter maintenance of cycle tracks … and multi-use paths is activated when 2 cm of snow accumulates", which appears to be an improvement on the service standard communicated in October. So, kudos to the City for that.
Here's some free communications advice: on the Cycling Network Map page, maybe say something like "X% of the City's cycling infrastructure is cleared of snow and ice in winter", and then on the interactive map, maybe add a description that indicates whether each lane/trail/etc. is cleared in the winter, and at what level of snowfall.
The Good and Bad of Snow Clearing
So, after a full winter of biking, how has the snow clearing been? I'll start with the good: even after some pretty heavy snowfalls, there was sufficient clearing and salting that I could reliably get to and from work in a safe and timely way. There were only one or two days early in the season when I had to deflate my tyres slightly for traction 1 and take things really slow.
The confidence I now feel that I can rely on the trail network as long as I leave myself extra time on the rare mornings after very heavy snowfall is a major credit to the City of Toronto. Most of the time I wonder if I really needed the studded tires after all.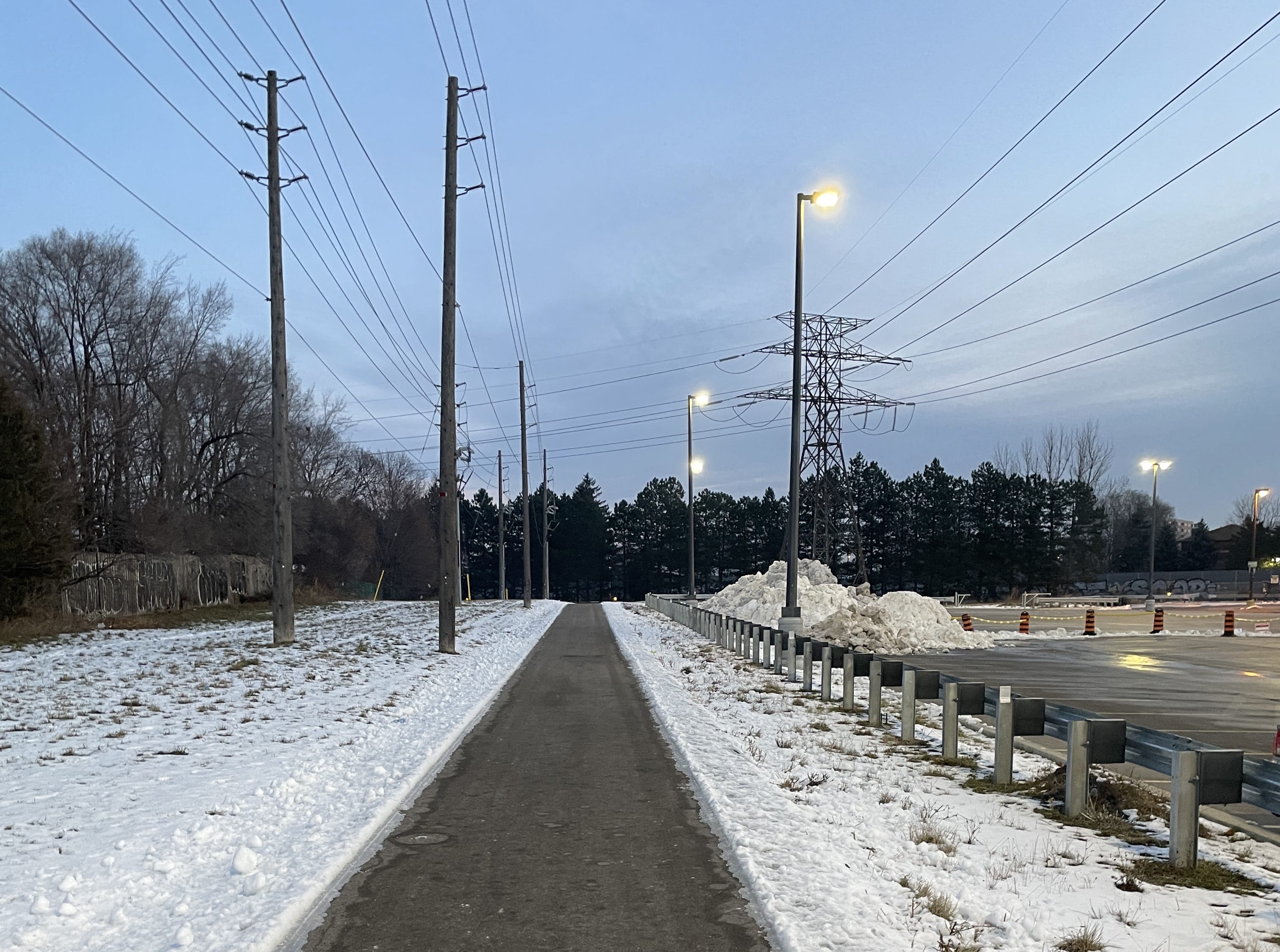 Of course, there are still some challenges, which occasionally add some frustration to the winter commute, and might still put some people off the prospect of winter biking in this area of Scarborough.
The most significant one is that many of the trails are not that well-lit at night. This makes it harder to spot the occasional ice patch or low-hanging tree branch 2. Plus, it can be a little spooky at times.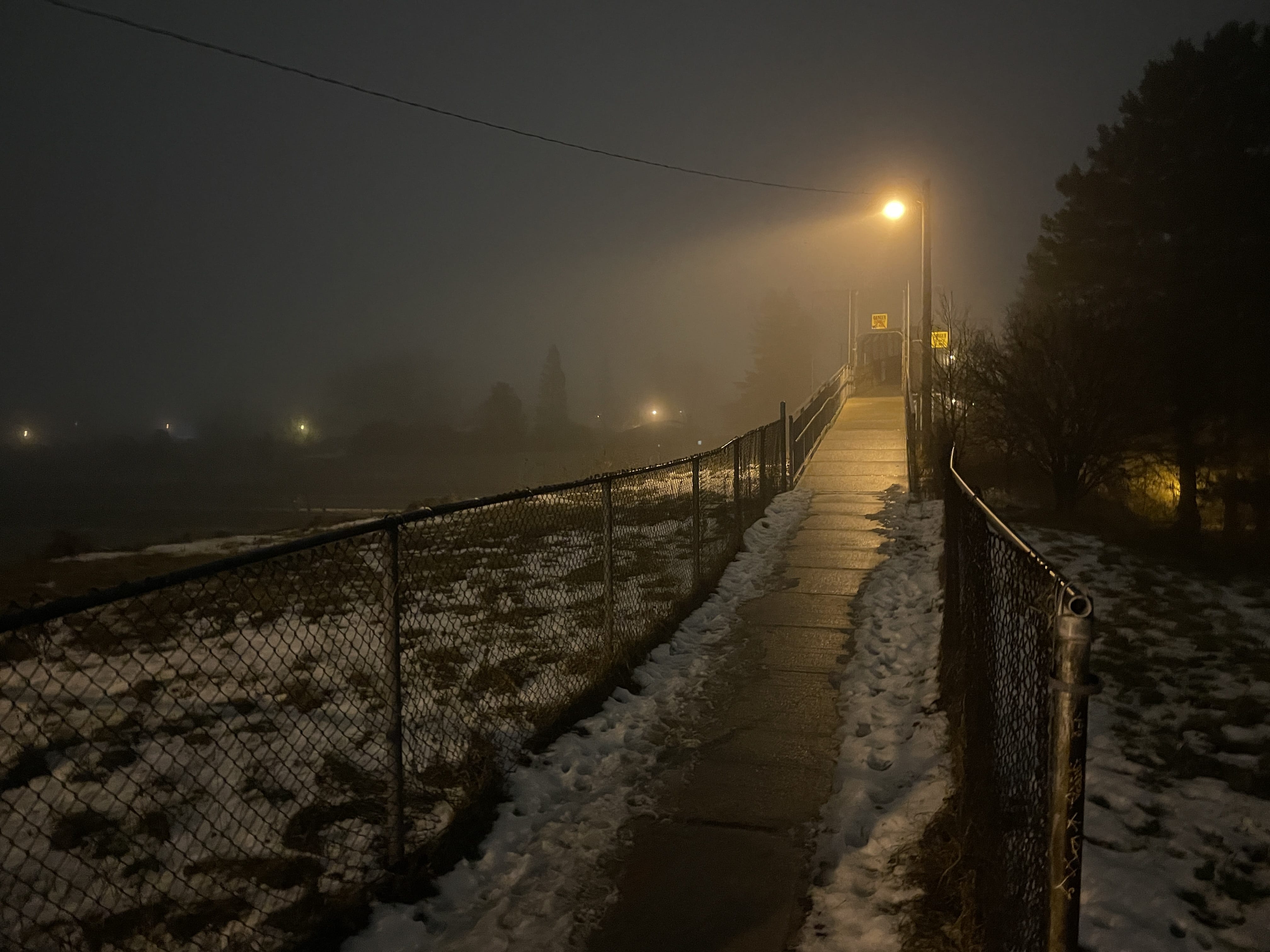 Now I'm a 6'8" man, so my list of safety concerns mostly ends at "low tree branches". But many people have a longer list of fears that would come with being on a sparsely-used trail in pitch darkness, so more lighting (and some emergency call posts in the most isolated sections of the trail) would be welcome additions.
The bridge over the RT line can also have some snow clearing issues, which is a challenge given that the alternative options for crossing the rail line are both more than a kilometre away and are both six-lane roads without protected bike infrastructure.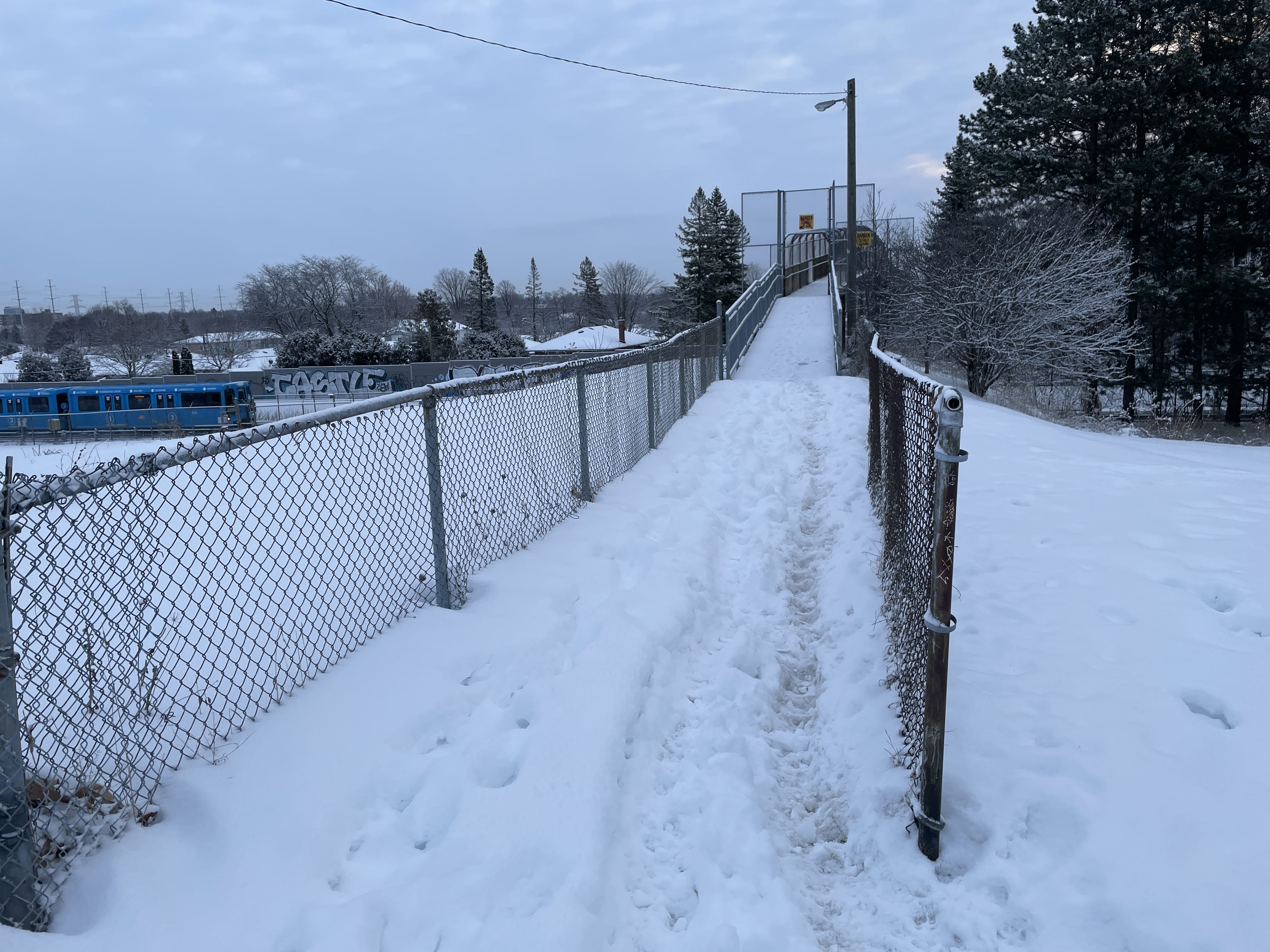 I did bring the issues with the bridge to the attention of the local City Councillor's office, so maybe they'll figure out how to fix these problems. It almost seems like part of the problem is that the crew responsible for the bridge doesn't work on weekends — if there's a big snowfall over Saturday or Sunday, the bridge is often still clogged up on Monday morning.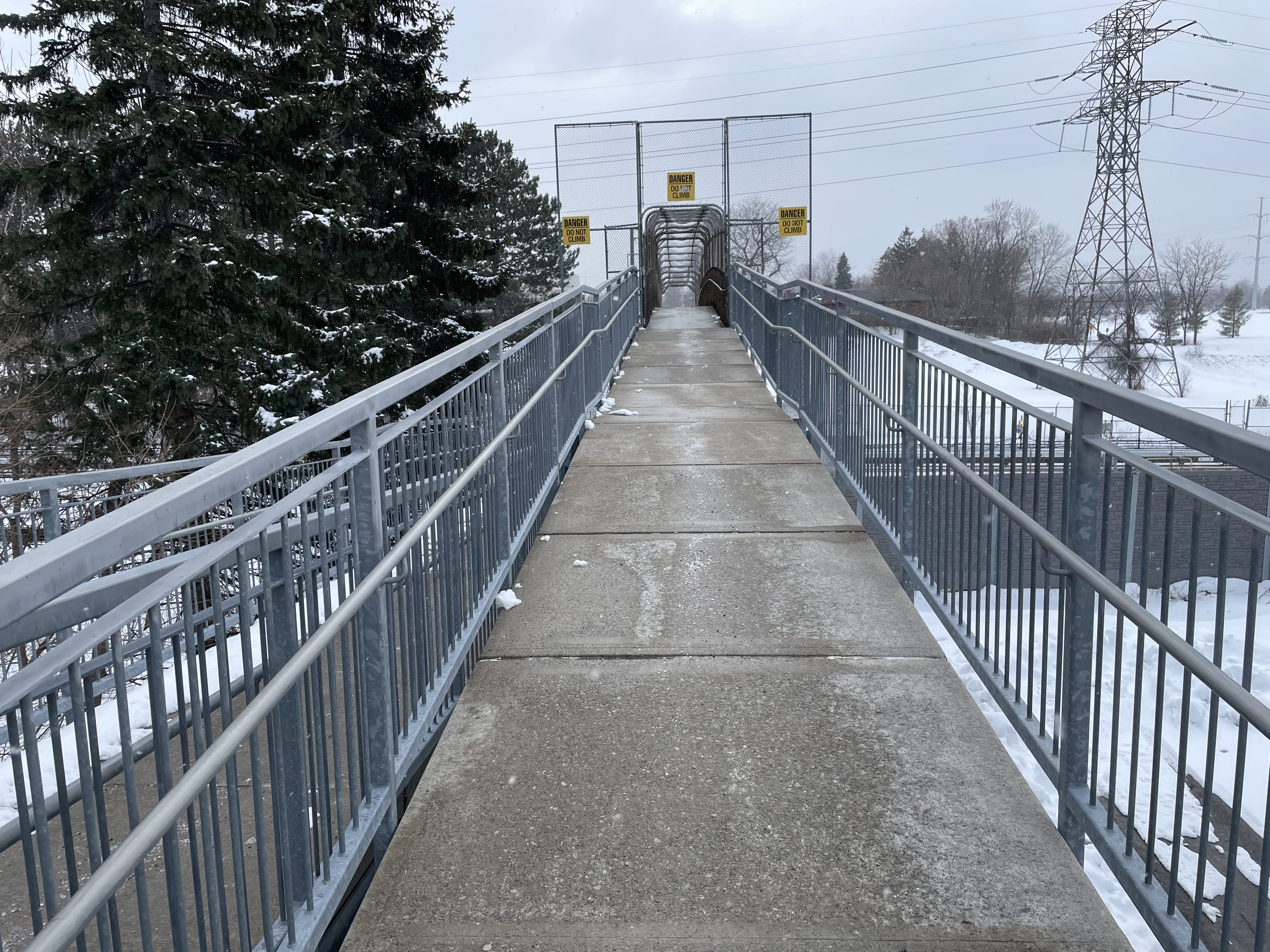 I've also run into the occasional small issue that gets fixed later, like having to push the bike over a windrow at the trail entrance (pretty bad after one snowfall, but perfectly cleared away after another).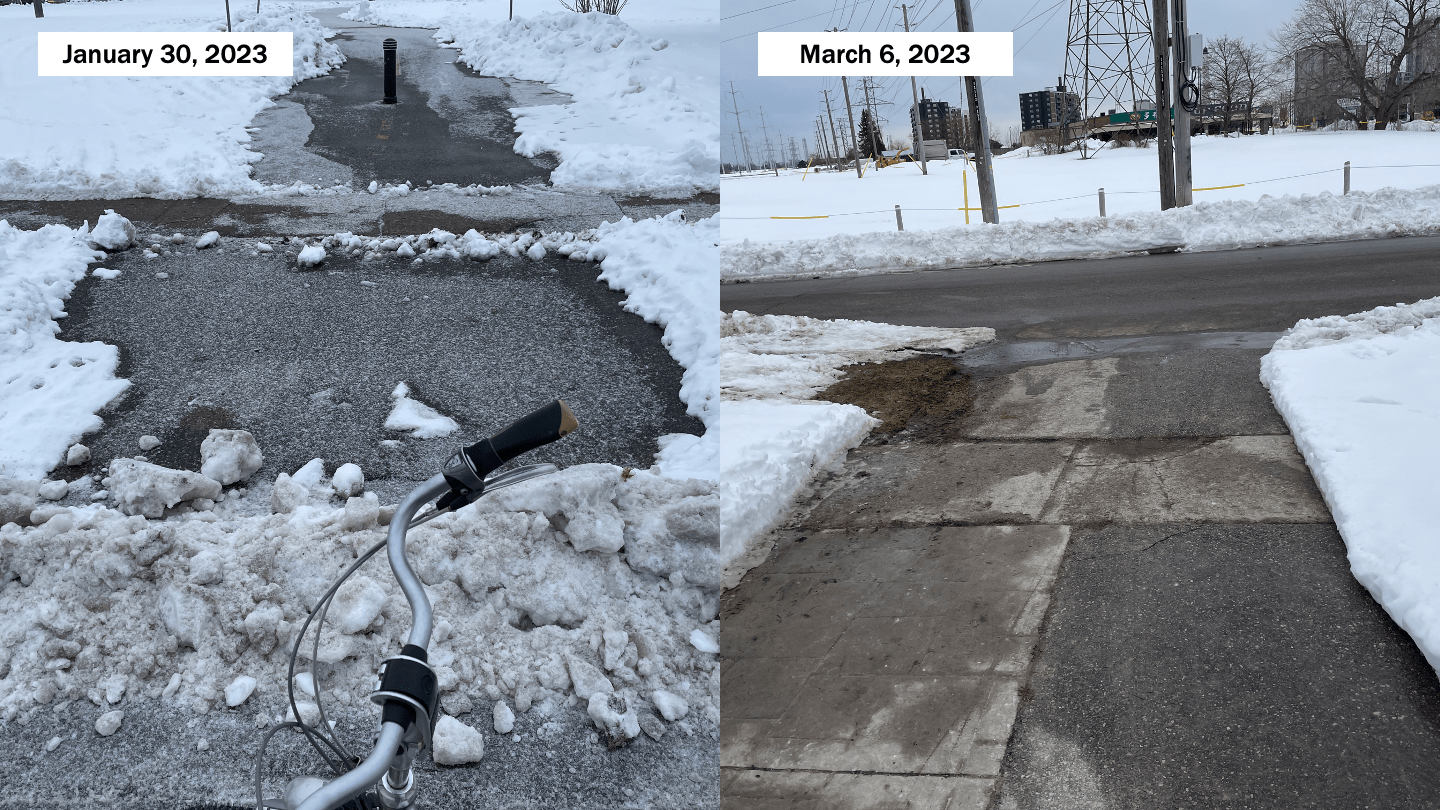 Or this case, where the trail plow lost its bearings slightly and cleared off a muddy section of grass instead (cleared properly when I went in the next week).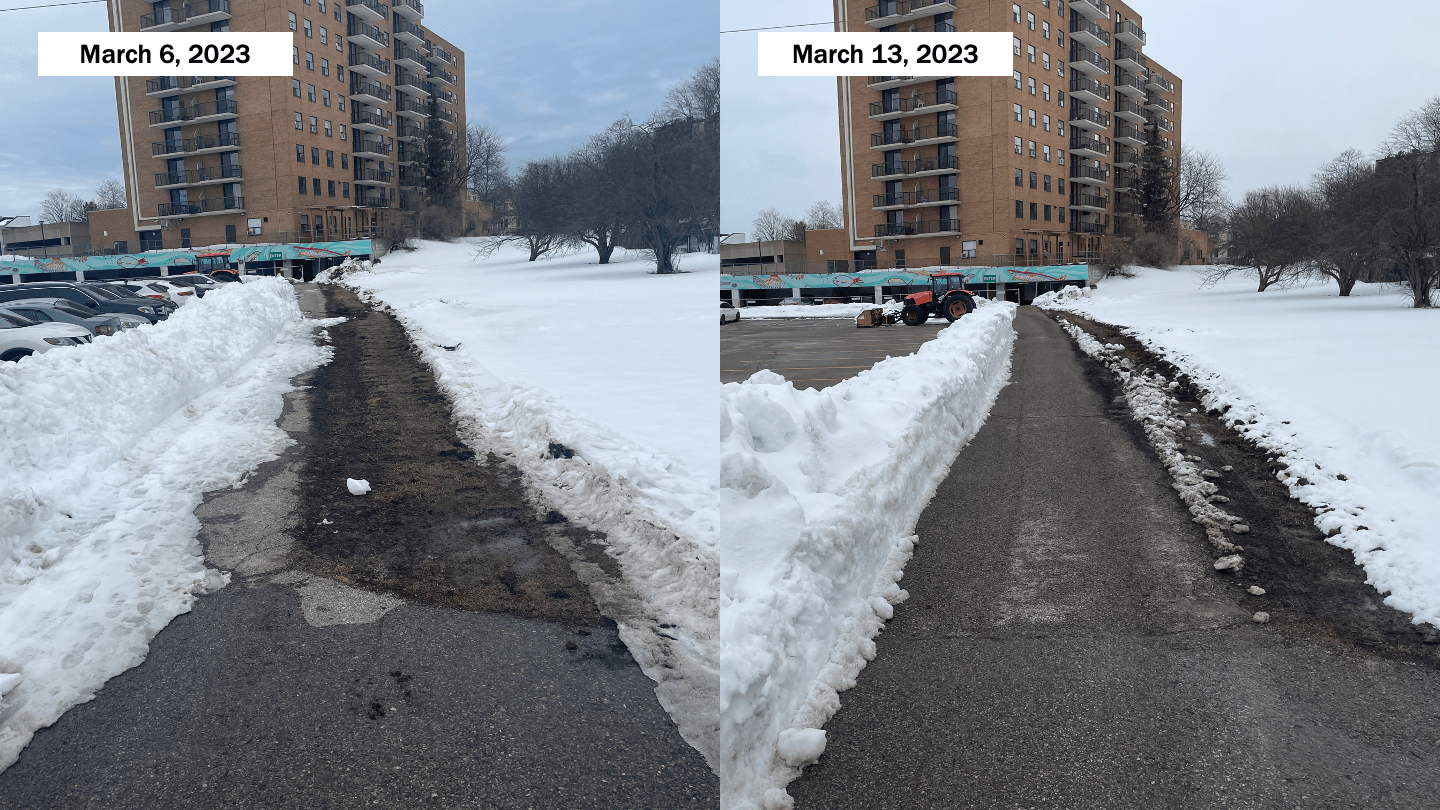 Maybe my favourite is this big pile of snow, which doesn't fully block the trail entrance, but definitely makes its presence felt. Almost like you should be politely saying "Sorry, just gotta scooch by ya!" every time you pass.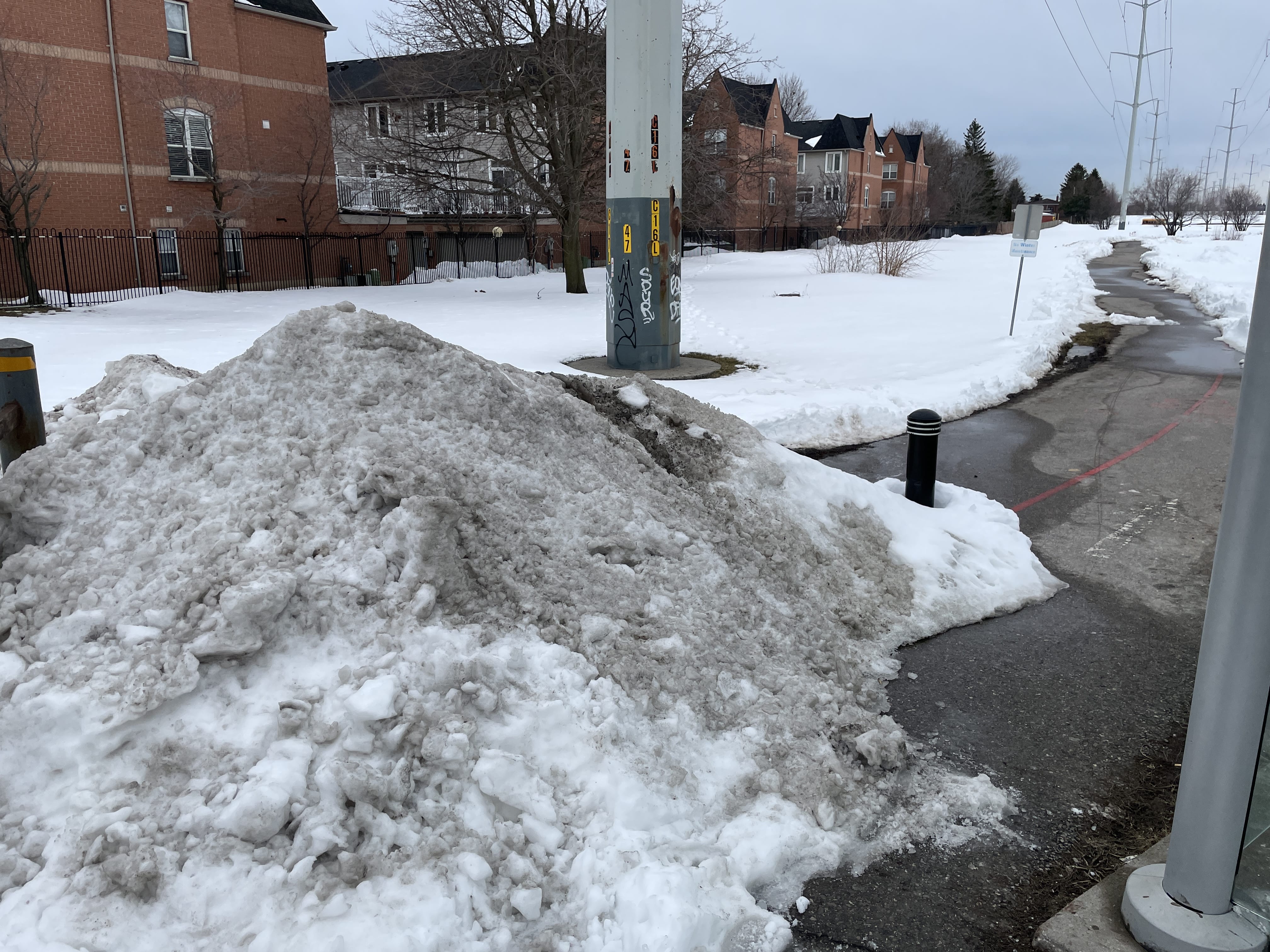 As for my other fear of getting into a bad situation or having to leave my bike at the hospital, it hasn't happened yet. Having the option to work from home most of the time the weather is forecast to be really bad definitely helps with this. Plus, I do have the studded tyres on both wheels as well as a decent toolkit in my cargo basket, so I don't worry so much on more challenging days.
Essential Winter Gear
It's a common frustration among cyclists that many people think it's "too cold" to cycle in winter. As long as you cover your extremities properly, winter cycling isn't an uncomfortably cold experience. In fact, there are many days when I don't wear my parka or take it off mid-ride. Often I'm unzipping my sweater as well so that I don't get sweaty. Turns out, light exercise keeps you warm, especially in the core and legs.
The middle of summer is actually a bigger logistical barrier to cycling; at least in winter you can always remove layers if you get too warm. In June–August, you often have to bring a change of clothes! Despite trying several different methods, I've yet to find a reliable way to pack a dress shirt into a backpack without wrinkling it somewhere.
You don't have to spend a fortune on winter bike gear either — this Shifter video does a good job of showing you how you can get through winter with stuff that's cheap or that you already own.
Here's my list of gear tips:
Not sure I've ever seen this on a "winter cycling gear" list, but those pocket packages of tissues are a must-have. You're going to be huffing a great volume of cold air, you'll need them, trust me.

Ear muffs that wrap around the back of your head work great with a helmet, and will get you through most winter days. If it gets really cold you might want a thin and light hat to put under your helmet, but even then you don't need something super warm, just enough to block the wind.

A fleece or wool neck tube is also a great thing to have. It stays on by itself, and you can pull it up over part of your face on really cold days.

I like to have a combo of gloves and mitts — ideally the gloves should be durable and should allow you enough dexterity to work your bike lock. When it gets really cold, you can add the mitts on top of the gloves.

Make sure you buy long winter socks, and don't cheap out on them too much. You won't regret getting the good ones.

Your jacket doesn't need to be that warm, especially if you wear a good sweater underneath. I suspect that a big down parka would actually be too much (I have a synthetic fill parka that's about 10 years old). It is helpful to have somewhere you can easily stash layers if you need to remove them mid-ride, like a basket. If I take off my jacket, I usually fold it and quickly bungee it next to my backpack on the rear rack.

I wear a high-vis jacket when it's dark in the winter, just so I'm not taking any chances. Most suburban drivers aren't habitually watching for bikes on a winter night or early morning, sadly.

You definitely want front and back fenders on your bike (plus a skirt guard if you can get one), and a chain case doesn't hurt either. These are all pretty standard features on Dutch-style bikes (I bought mine from Go Dutch on Eglinton). I also put studded tyres on both wheels, though lots of cyclists say you can get away with just having one studded tyre on the front.
OK, But is it Fun?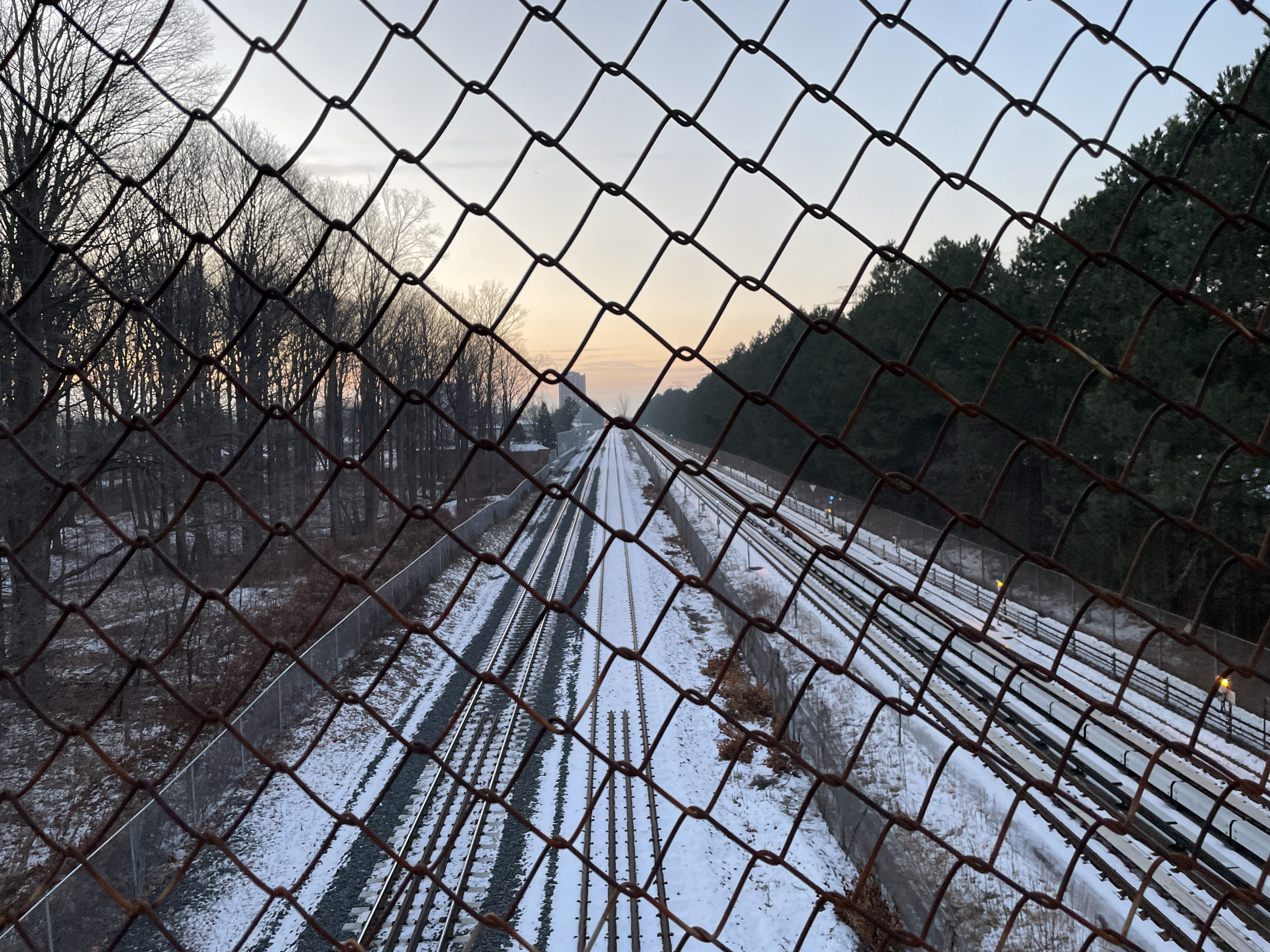 I would say so! For one, the winter can be cold and kind of depressing, so getting active on the way to work definitely helps to keep the mood up during the grey and dark weeks. If you like dogs, there are still lots to say hi to along the way to work, especially in Scarborough where so much of the bike network relies on the recreational trail system.
And occasionally you'll see ice-jeweled trees after frozen rain or a winter sunrise on the way to the office. Those are special moments, and much nicer than staring at slush on the 401.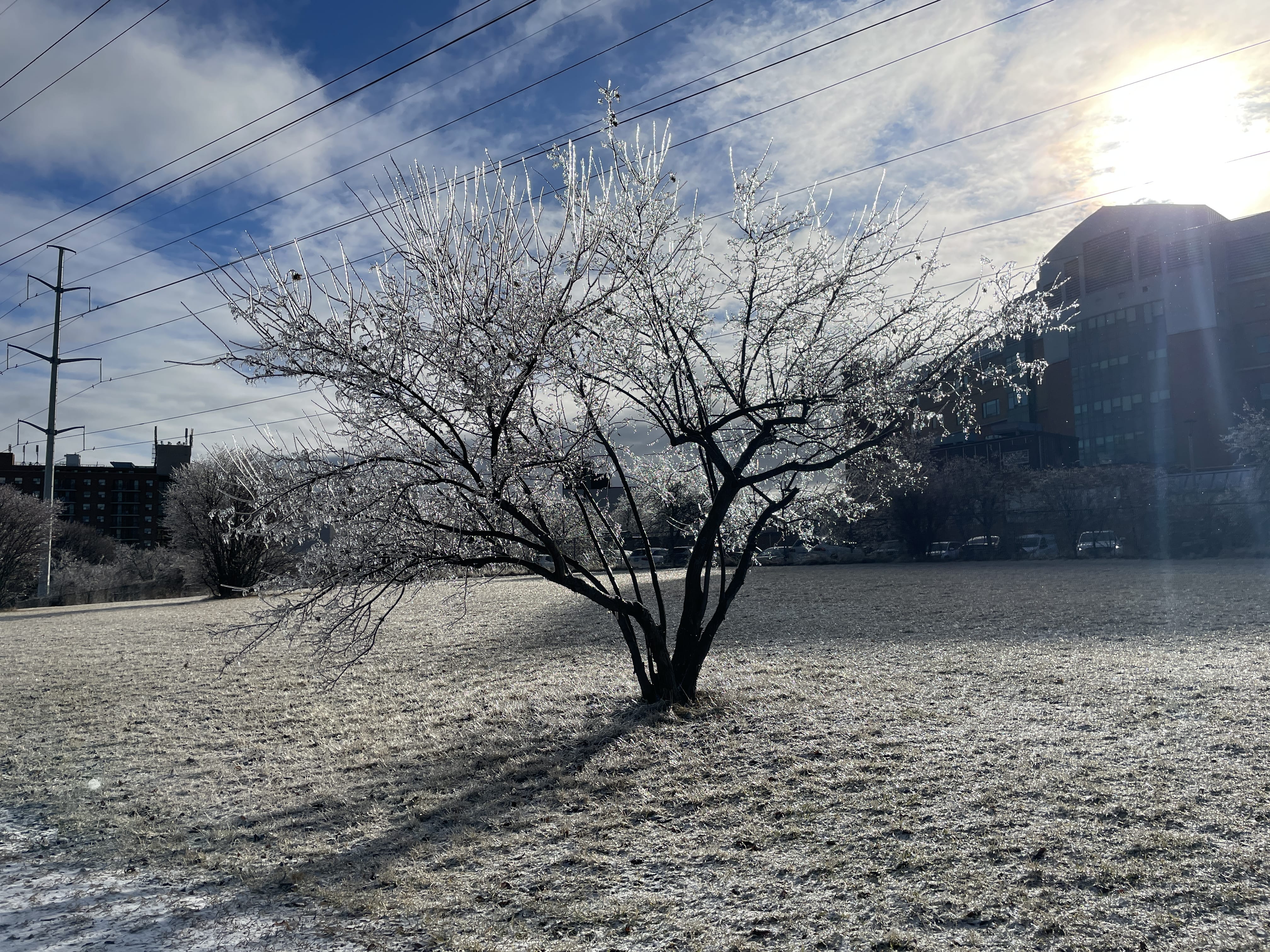 This is how the tyres are designed to be used — the studs are on the outer edge of the tyre, so you can deflate them to have them make more direct contact with the ground if needed. ↩

I seriously considered putting a big shiny christmas tree bauble on one tree branch so I would see it at night. That branch and I had a couple close calls… ↩