Deep Dive: Composer Representation in Spotify Classical Playlists (Part One)
This article is Part 3 in the Classical Playlists on Spotify and Apple Music series.
The Deep Dive Continues
To recap quickly from my last post going through the Apple Music playlists:
My goal for this blog series was to write about ways to explore and enjoy orchestral music. So, as part of going over the Spotify and Apple Music stats in detail, I wanted to highlight the small number of composers in each playlist that were women, Black, Indigenous, and/or people of colour. This way, you can discover more about them and get to know their music.
If you've just landed here, or haven't read the Apple Music post, make sure to read the notes explaining the "Average US Orchestra" comparator I'm using below.
Spotify
Representation of composers on Spotify was a bit better than on Apple Music, especially for composers of colour. The other thing that is notably different between the two platforms is that Spotify has historically had a much stronger focus on mood-themed playlists, so there are more streaming-first artists in some of the playlists I examined.
Classical Essentials
|   | Classical Essentials | If Average US Orchestra |
| --- | --- | --- |
| Tracks | 172 |   |
| Women | 7 (4.1%) | 14 |
| Black / People of Colour | 3 (1.7%) | 10 |
| Women of Colour | none | 3 |
| Living | 20 (11.6%) | 28 |
Compared to the equivalent playlist on Apple Music, Spotify Classical Essentials has a slightly higher representation of women composers, and actually has some composers who are Black or people of colour. The proportion of living composers is also significantly higher.
Samuel Coleridge-Taylor: Symphonic Variations on an African Air, Op.63
Samuel Coleridge-Taylor (15 August 1875 – 1 September 1912) was an English composer and conductor.

Of mixed race birth, Coleridge-Taylor achieved such success that he was referred to by white New York musicians as the "African Mahler" when he had three tours of the United States in the early 1900s. He was particularly known for his three cantatas on the epic poem, Song of Hiawatha by American Henry Wadsworth Longfellow. Coleridge-Taylor premiered the first section in 1898, when he was 22.
I'm going to write a whole post on this piece at some point. There are a lot of interesting choices to make in a theme and variations format and I think Coleridge-Taylor does a good job of transforming a spiritual (I'm Troubled in Mind) into several different styles of music.
If you want to listen to a version of the source material, you can check out this recording by the Southern University Quartet. Also important to note that I'm Troubled in Mind is not the same as Trouble In Mind, which is a blues standard, though it seems like the two songs are related.
Astor Piazzolla: Libertango
Astor Pantaleón Piazzolla (March 11, 1921 – July 4, 1992) was an Argentine tango composer, bandoneon player, and arranger. His works revolutionized the traditional tango into a new style termed Nuevo tango, incorporating elements from jazz and classical music. A virtuoso bandoneonist, he regularly performed his own compositions with a variety of ensembles.
You will perhaps be unsurprised to learn that this song by "the world's foremost composer of Tango music" will make you want to dance. The track on Spotify is a trumpet version by Alison Balsom but I also highly recommend Grace Jones' cover.
Takashi Yoshimatsu: Saxophone Concerto, Op. 59, "Cyber-bird": I. Bird in Colors: Allegro
Takashi Yoshimatsu (吉松 隆, Yoshimatsu Takashi) (born March 18, 1953) is a contemporary Japanese composer of classical music. He is well known for composing the 2003 remake of Astro Boy.
The majority of concertos performed are for piano, violin, and to a slightly lesser extent, cello. So I would absolutely buy tickets to see this, especially with a name as cool as "Cyber Bird". It's an excellent concerto. Also: Yoshimatsu has a bird-themed album with fantastic cover art. How could I not be a fan?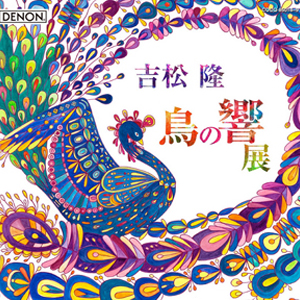 Jess Gillam: Merry Christmas Mr. Lawrence (Arr. Metcalfe)
Jess Gillam (born 24 May 1998) is a British saxophonist and BBC radio broadcaster from Ulverston, Cumbria. Gillam hosts This Classical Life on BBC Radio 3.
Maybe I spent too much time in high school band, but I don't usually think of Saxophone as a "light and airy" instrument. A really incredible performance here.
Germaine Tailleferre: String Quartet: I. Modere
Germaine Tailleferre (born Marcelle Germaine Taillefesse; 19 April 1892 – 7 November 1983) was a French composer and the only female member of the group of composers known as Les Six.
The melodies in this quartet are a little abstract for my taste, but I do really like how it feels like a story told through a number of sometimes-complex emotional states. The history of Les Six is also pretty fascinating, including their role in popularizing Le Boeuf sur le Toit, a bar that was "the epicenter of the Paris of the Roaring Twenties". This bar apparently originated the French expression for musicians to jam together: "faire un boeuf".
Nadia Boulanger: 3 Pieces for cello and piano: No. 1. Modere
Juliette Nadia Boulanger (16 September 1887 – 22 October 1979) was a French composer, conductor, and teacher. She is notable for having taught many of the leading composers and musicians of the 20th century. She also performed occasionally as a pianist and organist.
I think this is really beautiful, and it makes excellent use of the cello's upper range. The other two parts of the 3 Pieces are also worth a listen: #2 is lyrical and sweet, and #3 is energetic and fun.
Nadia's Lux Aeterna was also featured on the Apple Music Classical Essentials playlist.
Louise Farrenc: Nonet in E-Flat Major, Op. 38: III. Scherzo. Vivace
Louise Farrenc (née Jeanne-Louise Dumont; 31 May 1804 – 15 September 1875) was a French composer, virtuoso pianist and teacher.
Nine is an interesting number of musicians to have — you can blur the line between chamber and small-orchestra music. Farrenc's Nonet, which uses the most common instrumentation of combining a wind quintet with a string quartet (with a double bass instead of a second violin) is essentially a symphony, with fewer players. She wrote it after already completing three symphonies, and I think it shows in her talented use of form and different instrumental voices.
Listening to this made me think about one of the things that's interesting about orchestral music, which is that instruments can serve so many different roles during one piece. Sometimes it's establishing rhythm, sometimes it's providing harmony, sometimes it's playing the melody, and other times it's playing for accent or effect.
Jessica Curry: Finding the Pattern
Jessica Curry (born c. 1973) is an English composer, radio presenter and former co-head of the British video game development studio The Chinese Room. She won a BAFTA award in 2016 for her score for the video game Everybody's Gone to the Rapture.
This is the most popular track from the Everybody's Gone to the Rapture video game (on Spotify anyway). I'll have to ask my girlfriend nicely to borrow her Windows computer so I can play this game. Several of the reviews I read about it mention how good the music is and how well it was used to emphasize emotional moments.
It must have been bittersweet to win a BAFTA after announcing she would be distancing herself from The Chinese Room because of her health and because her experiences as a woman in the video game industry were so awful. However, judging by the projects listed on her website, it looks like she was successful in broadening her music-making beyond video games, with a number of interesting standalone pieces and commissions.
After The Chinese Room went through a rebirth and new ownership, Curry composed music for their 2020 game, Little Orpheus, which was released on Apple Arcade. Unfortunately, like with Everybody's Gone to the Rapture, I don't have the right device to play it: my iPhone is too old 1, and I haven't upgraded my mac to Catalina yet.
Update: After more than five years of dutiful service, my iPhone 6 died, so I was able to play a couple levels of Little Orpheus on my new phone. The soundtrack is pretty good, and you can listen to it on Spotify.
Although you can find a soundtrack album for most video games, sometimes part of the experience is missing if you just listen to the music and haven't played the game before. If you've played the game, your memories of the entire experience, including the gameplay and the visuals, become part of the listening experience. In addition, sometimes there's clever integration of the gameplay with the music.
For example, (if I remember correctly), there's a part where you're hiding in a giant eggshell and trying to cross a bridge without being seen by a guard. When the guard is looking away, and you need to move, the music gets louder and more energetic. When the guard looks over at the bridge — and you need to drop down and hide yourself under the egg — it becomes very quiet, adding to the tension of trying not to be discovered. I think the track from the soundtrack album is Stealing Eggs. Either the shift in dynamics is programmatically triggered, as is common in video game music, or the music is perfectly timed to the gameplay cycle. Either way, it's a neat effect.
Amy Beach: Young Birches, Op. 128, No. 2
Amy Marcy Cheney Beach (September 5, 1867 – December 27, 1944) was an American composer and pianist. She was the first successful American female composer of large-scale art music. Her "Gaelic" Symphony, premiered by the Boston Symphony Orchestra in 1896, was the first symphony composed and published by an American woman. She was one of the first American composers to succeed without the benefit of European training, and one of the most respected and acclaimed American composers of her era. As a pianist, she was acclaimed for concerts she gave featuring her own music in the United States and in Germany.
This is actually part of a set of three nature-themed piano pieces (the other two are about a chipmunk and a hummingbird, respectively). I love program music and Amy Beach does a great job of capturing the essence of these animals and plants in this trio.
Barbara Strozzi: Amor dormiglione
Barbara Strozzi (also called Barbara Valle; baptised 6 August 1619 – 11 November 1677) was an Italian singer and composer of the Baroque Period. During her lifetime, Strozzi published eight volumes of her own music, having more music in print than any other composer of the era. This was made possible without any support from the Church or consistent patronage of the nobility.
I'm not usually a fan of Baroque music, but I like this piece. It has big folk song energy. Apparently the title means something along the lines of "sleepy cupid"; you can read a translation of the lyrics if you're interested.
Barbara Strozzi is one of several women composers profiled in Anna Beer's Sounds And Sweet Airs: The Forgotten Women Of Classical Music, which is a book I was able to read part of before having to return it to the library. I'll have to take it out again soon and re-read the Strozzi chapter.
AI can't make up for missing metadata
One thing that's true about nearly all of the pieces listed here (but that I only noticed with the Amy Beach piece) — you can really see the effect of placement on an official playlist. Amy Beach's Young Birches has nearly 2 million plays, whereas A Peterboro Chipmunk and A Humming Bird only average about 2,000 each. Similar orders of magnitude can be found for the other tracks that are part of a larger work.
As a quick experiment, I tried looking through the song radio for some of the tracks on this playlist to see if the other movements would show up. In a couple cases they did (e.g. the second movement of Nadia Boulanger's 3 Pieces is #11 on song radio for the first movement), but in most cases, the other movements from the same piece were absent.
A large part of this may be due to the fact that Spotify has no metadata to describe multi-movement pieces of music (Apple Music does, which is why movements from the same symphony are grouped in their UI). Perhaps if they did, it would be a useful signal for song radio. Goodness knows - if they can generate a logistic variable for "danceability", they can probably manage a field or two to indicate tracks that should be grouped together.
Up next
Part two of the Spotify deep dive will look at the Orchestra 100: Spotify Picks.
Playlist, Methodology, and Data
You can listen to all of the pieces featured in this playlist analysis series here: Spotify: Classical Deep Dive - Spotify & Apple Music.
Full methodology notes for all my music posts can be found via the Main Methodology Page.
Details and data for the streaming service playlists analysis can be found on the Streaming Analysis Methodology Page.
More details about how I used the data from the Institute for Composer Diversity to create the comparison to US orchestra mainstage seasons can be found on the ICD 2019/20 Season Analysis Methodology Page.
My iPhone 6 has had a longer useful life than the Nokia brick I had as a teenager, which is pretty impressive. I'm going to hold on to that headphone jack for as long as I can. ↩
Articles in the Classical Playlists on Spotify and Apple Music series:
Part 3 - Deep Dive: Composer Representation in Spotify Classical Playlists (Part One) (Current Page)